AMD Radeon RX 570 in mining: Review | Testing| Hashrate | Profitability | Specs – The RX 570 video cards have shown good performance in mining and have proven themselves in the field of ether mining. On the AMD RX 570, mining can bring good profit, but for this you need to carefully study the range of products from various manufacturers and properly overclock the video card.

>
The article will describe the overclocking of the RX 570 8gb video card, for mining, which card model is more suitable and how you can reduce the power consumption of the RX 570 in mining.
AMD RX 570 in mining, characteristics and relevance
The profit that a coin mining farm can bring to the owner depends on the power of the video card. Therefore, the need for new products among video cards arises more from miners than from gamers. Miners, at the earliest opportunity, evaluate and give recommendations on new video cards, give them performance ratings and describe the possibility of overclocking the memory and processor of the device. After the release, RX 570 attracted the interest of farm owners, and those who were just about to start mining.
In order to somehow cover the shortage of video cards, various manufacturers have released their own models of cards based on this chip. This ensured the popularity of RX 570 cards among miners and the demand in the computer hardware market. They gradually began to take leadership positions in this area and stood alongside their predecessor, the RX series.
On the RX 570 video card , Ethereum mining performed well and thanks to this, it became the main device that mines coins on algorithms that do not use ASIC architecture . But, even the arrival of the first ASIKs on the air did not put an end to gpu mining. Cheap and hardy RX graphics cards have remained profitable.
However, everything flows, everything changes. Several years ago, the powerful and relatively inexpensive 570 ousted not only the bulky and energy-consuming R9 series cards from the cryptoasset mining market, but also its closest relatives, the RX 470. And now this model is being replaced by the Navi series graphics adapters. However, it cannot be said that the RX 570 is no longer relevant for mining. Many crypto-miners have cards of this line and still mine Ether.
Of course, this primarily concerns gpu devices with 8GB memory, but with the current Ethereum rate, it's too early to write off four gigabytes, because there is also Ethereum classic, which can be mined on the RX 570 for at least a couple of years, and if its modernized algorithm does not break through ASIK and more. Ravencoin also brings good profit, so it's too early to write off this model and let's get acquainted with its technical parameters.
The standard features of the RX 570 are as follows:
number of processors – 2048 pcs. ;
interface – PCI-E ;
number of texture units – 128 pcs. ;
core frequency – 1255 MHz. ;
memory frequency – 7000 MHz. ;
memory capacity – 256 bits ;
maximum power consumption – 150 watts .
Which RX 570 is the best for mining, model selection
The RX 570 video card was produced in two variations: 4 GB and 8 GB of memory . Buying this model for mining in 2018, you can ignore the amount of video memory. Indeed, this option has practically no effect on the speed of mining coins of the Ethash (DaggerHashimoto) algorithm.
Last spring, everyone was ready for the fact that for another month or two and 4 GB will not be able to mine ETH and ETC , but for the RX 570 these are the most profitable coins. Of course, many other coins and tokens have been created on the basis of Dagger Hashimoto, but the profitability of mining will drop significantly. As a result, it turned out, how it happened. A very interesting story happened to the classic. The miners using AMD products were predicted to fail, but they continue to work safely. As of February 3, 2021, a mining farm of six RX 570 cards brings on Ether about $ 15 per day (without deducting the cost of electricity).
Where to mine Ethereum Classic is practically irrelevant. The hashrate on both Windows and Linux is almost the same. By mining the ETC token, you can earn 3 USD in 24 hours. The profit on other Ethash coins is even smaller.
On Equihash, the reds lag behind the greens, except for the Beam crypto coin. On kryptonite, after the departure of Monero, there were no profitable alts for a long time, but then Haven went up in price. The market is going up now, in the cold season you can successfully mine RVN. and other tokens can become more profitable. Perhaps not today, that by tomorrow someone will launch a new, profitable for mining, the project and the situation will improve. In addition, it should be borne in mind that Ethereum is switching to PoS mining, and the Ethereum classic project, according to Vitalik Buterin, will merge with large ether in the near future, and then these coins will become inaccessible for traditional mining. But still, 8 GB cards have more opportunities, for example, they can be used to mine a very promising Grin coin and other altcoins Cuckatoo31.
Once, miners, due to indicators that do not change depending on the amount of memory, when mining with the DaggerHashimoto and Equihash algorithms, chose the one that was cheaper , that is, the version with 4 GB . When the exchange rate began to change, many had to think about buying a version with a large amount of memory. Therefore, it is better to immediately overpay a little and take the 8 GB version . This applies not only to the RX 570, in a year and a half the turn of the six-gig 1660 S and 5600 XT will come . Get new models with 8 GB or higher memory.
Even if the rate does not change for the worse, at any time a new algorithm may appear or the existing one may change, which will require more RAM to increase the hash rate.
RAM sticks from Elpida and Hynix have pretty good overclocking potential and are found in RX 570 cards from most manufacturers. But there are also video cards with memory from Samsung, after the timing firmware they can provide a very high hash rate. Such memory chips are installed in Gigabyte RX 570 ( mainly AORUS) and in Sapphire Nitro + RX 570 .
Also, a good cooling system is an important parameter when choosing a card. This is exactly what the PowerColor RX 570 Red Devil has . There are as many as 3 fans installed on this card, due to which it remains as cold as possible.
Hashrate on different algorithms, algorithm calculator
It makes no sense to mine bitcoins and other currencies, the SHA-256 algorithm on the RX 570. No GPU comes close to the performance of an ASIC . In general, AMD video cards are so far the most profitable mining devices compared to Nvidia for the same money.
Specification
The RX 570 with factory settings will be able to mine coins at this speed:
| Algorithm | Hashrate | Consumption |
| --- | --- | --- |
| Ethhash | 17 Mh / s | 120 watts |
| Ethash4GB | 29-30 MH / s | 120 watts |
| Zhash | 19 H/s | 100 watts |
| KawPow | 13 MH / s | 150 watts |
| CNHeavy | 640 H/s | 110 watts |
| Beamhash | 14 H/s | 120 watts |
| Aion | 85 H/s | 100 watts |
| NeoScrypt | 700 Kh / s | 140 watts |
| BCD | 7.3 Mh / s | 110 watts |
| TimeTravel10 | 8.0 Mh / s | 115 watts |
| X16R | 5 Mh / s | 100 watts |
| Lyra2Z | 0.42 Mh / s | 110 watts |
| Hex | 2.1 Mh / s | 85 watts |
| ProgPow | 6.7 Mh / s | 130 watts |
| X22i | 3.4 Mh / s | 110 watts |
These values ​​show that mining Ethereum, Ravencoin. Haven. Ethereum Classic and other coins will provide good profits. To figure out what the cards are capable of, you can find out how they manifest themselves on various algorithms.
Mining Ethereum
The Ethereum dag file has already crossed the 4GB mark, so there can be no question of a speed of 30 megahash for a four-gigabyte. On Linux, after long dances with a tambourine, at best you will get 17 Mh / s, and an inexperienced miner will get no more than 11 Mh / s. It makes sense to get Ether on Windows on four gigabytes, only in the hope of a future colossal increase in value. On cards with 8 GB of video memory, it is now necessary to mine Ether, it brings tangible profit. From one card you will take "clean" about 150 rubles per day. The indicator was calculated at the time of publication, the exact profitability can be calculated on the Whattomine website .
Regarding the double mining popular in the past, it should be said that it has long been out of date. True, there is ETH + Zill, but this is still not dual mining in its purest form. You just take a little distraction from Ether in order to serve the zilik, since in this network miners are required only periodically.
Ethash4GB
This category includes both the modernized ETC algorithm and all other alts running on regular Ethash. Compared to big Ether, the profit is less. In addition to the classic in the current period on Ethash4GB, gpu miners have nothing to mine. The four-geek ASIKI Innosilicon works here.
Mining Rawencoin
After changing the algorithm, the ravens also changed their color. Previously, this coin was mined on green cards, now more on red ones. The coin is profitable, but very fry at cards. In winter, nothing else, but in summer, no additional cooling is possible.
Mining Zcash
This algorithm has long been under the control of ASICS miners . So mining Zcash doesn't make sense. It is worth paying attention to lesser-known coins only if we are talking about dual mining, which the video card can handle without any problems.
How to flash RX 570 for mining
The RX 570 firmware for mining is an important procedure. Without this, it is impossible to achieve the highest hash rate. Any miner can flash a Bios 570 video card, based on the instructions. The correct RX 570 firmware for mining can be a turning point in the mining of coins, which will affect profits and allow you to make more money. Stock firmwares for cards can be found on specialized sites and forums for miners Techpowerup.
You can find the timings yourself, for example, here: https://forum.bits.media/index.php?/topic/38510-eth. The SRBPolarisV3 program is ideal for editing the BIOS, the download link is https://mega.nz/#F!TVgGHQZS!yfmtIvbF67iS4QrEJqb26g.
If the video card has Samsung memory installed, then we change the timings from 1750 and higher, and from 1500 and higher for other versions.
It is worth paying attention to the compliance of the program with the maximum characteristics of the equipment in order to get rid of the overclocking of the video card after overclocking. It is recommended to leave 5% of the total performance unused so as not to damage the device. This will increase the service life of the equipment and get rid of freezes and errors during mining.
Overclocking the RX 570 8GB video card, for mining, will require a BIOS firmware. To do this, you need to download the ATIWinFlash program from AMD. With it, you can save the original BIOS from the video card to your computer. There are two versions of programs, textual and with a shell, the first is easier to use, and the second is much more functional, but both are great for flashing.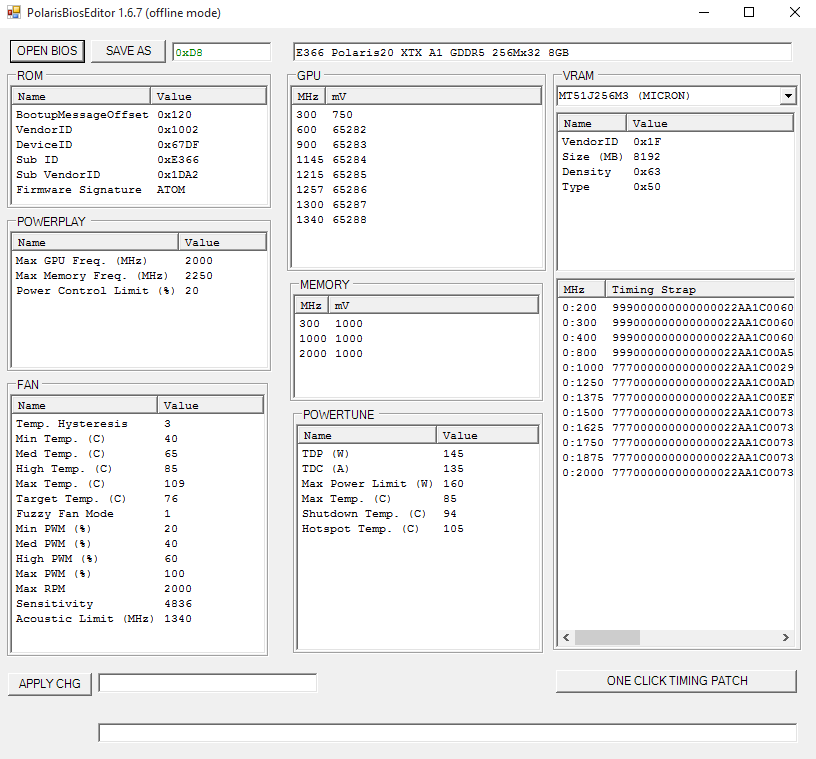 For Polaris cards, you can use the free SRB Polaris BIOS Editor.
With the help of it you can change the taymin gov RAM , increase the processor speed, adjust the cooling system and reduce power consumption.
Polaris BIOS Editor can handle these add-ons just fine. It is also distributed free of charge. The application has an automatic selection of the best timing value for a specific manufacturer.
Finally, you will need to use the Atikmdag patcher patch to avoid errors when installing drivers.
The firmware of the video card entails the loss of the warranty period, but there are "Experts" who can teach you how to bypass such moments. Be careful.
And by and large, using the latest versions of the Claymore and Phoenix miners, you don't need to sew Bios at all. In Claymore's batch file , write the -strap and –rxboost options , and in the phoenix –mt option . By choosing the correct numerical value for these options and setting the optimal overclocking parameters, you will get 30 Mh / s on the factory firmware.
Detailed video card firmware in a special section.
Overclocking AMD Radeon RX 570
Overclocking the RX 570 8gb video card for mining, as well as for games, is done using the MSI Afterburner program . It is popular with gamers and miners for its ability to fine tune and overclock hardware. But unlike other software, it is able to coordinate all changed settings with each other, which avoids an imbalance in the operation of the video card.
The advantages of the program can be safely attributed to its free distribution on the Internet. All settings for changing parameters and overclocking are provided by the developer and are available to users in the original version of the program.
Overclocking a video card for mining is carried out as follows: First, the core value is adjusted, and only then you can increase the memory frequency.
Optimal values ​​during overclocking are selected manually by +30 Mhz to avoid overclocking.
When mining Ether, the memory of the video card is used and the overclocking of the processor has almost no effect. The optimal value of the video card processor is around 1100 Mhz.
To overclock the memory, you first need to understand what timings were built in. When updating the BIOS with timings from 1500, the optimal settings for the video card will be 2050 Mhz.
How to reduce the power consumption of the RX 570
A video card, working in Dual-mining, can heat up to 75 degrees and use fans at high speeds. Firstly, this creates a rather loud noise, and secondly, it means that the video card has begun to consume more power.
MSI AfterBurner can display 130 watts. This can happen if the downvolt was produced incorrectly or not at all.
The optimal Power Limit value is -50%, with such settings the video card works as efficiently as possible and consumes about 110 watts of electricity.
The latest versions of Claymore's Dual Miner and PhoenixMiner reduce the core and memory voltage of the device. Better choose a phoenix, it allows you to mine classic Ether and is constantly updated. Mount it in a batch file – cvddc 900 and – mvddc 900 (these options are written the same way in both the executive file utilities) and your RX 570 will consume only 92 W instead of 130 W . Happy mining!
---
Subscribe to our resources and read comments, sometimes smart people write smart things there.
---
Related materials: Readers Rating: 54% 2 votes
(AMD Radeon RX 570 in mining: testing, hashrate. Profitability)