AMD he illustrated to the Financial Analyst Day the updated roadmap regarding the consumer and server CPU / GPU market, revealing interesting news and confirming to aim for leadership in two sectors that are certainly not without competition (see Intel and NVIDIA). AMD CEO Lisa Su reiterated that the company is going through a particularly positive period, driven mainly by the sales of Ryzen and EPYC processors – just as it emerged from the most recent financial report – and from what is defined as the most competitive product portfolio in its history.
Obviously there has been talk of Zen architecture and the next generations of chips produced with 7nm + production process, but not only. We start from the consumer market, a sector that will see the Ryzen 4000 (Zen 3) processor debut later this year, initially with a few models that will be followed by the entire product range throughout 2021.
The consumer dekstop roadmap stops at 2021 and the fourth generation Ryzen – probably because AMD doesn't want to reveal too much – while it pushes until 2022 as regards EPYC server solutions. About this AMD confirms that the 5nm EPYC 4 "Genoa" processors will arrive in 2022, bringing further optimizations and new technologies compared to the EPYC Milan 3rd gen.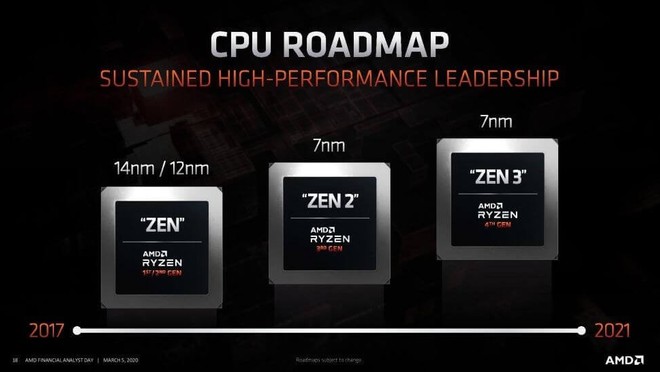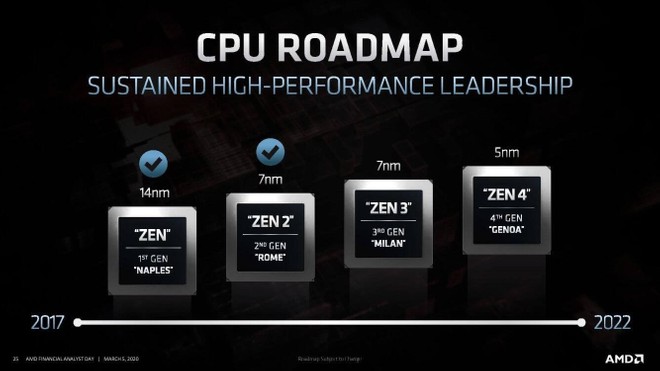 AMD therefore confirms a solid roadmap in the CPU sector, a sector where it is currently recovering market share on an Intel in difficulty on 10nm technology; most likely AMD will have the first 5nm consumer processors ready in 2023, while on the graphics card side, it confirms the arrival of the RDNA 2 chips is the new RDNA 3 GPU architecture by 2022.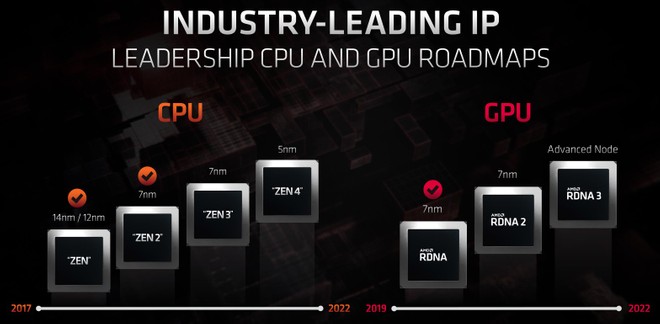 According to AMD, RDNA2 architecture will be 50% more efficient than current RDNA first generation (see Radeon 5000 series presented in May 2019), a feature that, needless to say, will allow you to increase performance for the same consumption.
Still in the GPU area, the company makes a further important announcement regarding the introduction of one new architecture called AMD CDNA (Compute DNA). Starting from this year, in fact, the company will diversify its desktop / consumer offer from that of datacenter / computing; consumer products (Radeon) will use RDNA architecture, those for the world datacenter (Radeon Instinct) the new CDNA.