CertiK Overview: Token and platform, farming at Binance Lauchpool: CertiK – an ecosystem that allows you to apply complex solutions for decentralized applications and blockchains. On October 24, the mainnet of CertiK is launched and all the main components of the ecosystem will be integrated with it, but with the ability to interact with other blockchains. The main motive of the project is the infrastructure of provable trust for everyone.
CTK – a functional utility token that will be used as a means of exchange between participants on the CertiK platform. From October 23, 2020, it is available for farming on the Binance Lauchpool platform for 12-16 days. Supported pools: BNB, BUSD, CTK. CTK will be listed on October 27 at 11:00 Moscow time. The first available trading pairs are CTK / USDT, CTK / BUSD, CTK / BNB, CTK / BTC.
CertiK (CTK) Pharming Terms on Binance Lauchpool: https://www.binance.com/ru/support/announcement/11ac4e42fde644f4a2ee0c358b689679.
Introducing @certikorg $ CTK на #Binance Launchpool!
Earn CTK by depositing $ BNB, $ BUSD and $ CTK! 💥

More details: https: //t.co/E7ZClsAoY4 pic.twitter.com/Ji0dcwQ5ci

– BinanceRussian (@BinanceRussian) October 22, 2020
Bitcoinminershashrate.com editors reviewed the CertiK project and its functional features.
The content of the article
general information
Technological solutions
CertiK is an infrastructure that includes the DeepSEA programming language, the CertiKOS operating system kernel, the CertiKVM virtual machine. With these tools, developers can create secure and transparent systems. In addition, the CertiK Security Oracle is of great importance – an oracle that evaluates the security of a decentralized network based on criteria provided by operators; in the process, the reliability of the source code is assessed, and those who participated in the assessment are rewarded in CTK, CertiK's own chain token.
ОС CertiKOS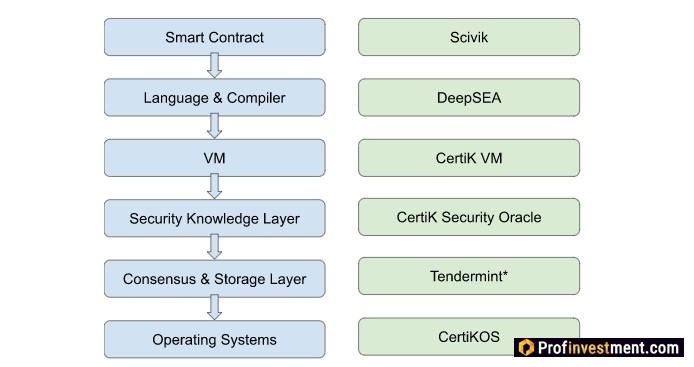 The operating system kernel CertiKOS is focused on security, resistance to hacker attacks and correct execution of functions. To check the correct operation of programs, the OS includes formal verification mechanisms.
CertiKOS supports concurrency, that is, you can work with multiple threads on multiple CPU cores at the same time. The architecture is extensible – can be used for different applications, not just blockchain.
When writing software code, developers also write specifications that specify exactly what the program does. It then evaluates how well the code implements those specifications. The scoring system is written on a case-by-case basis, and is applied only once, after which all work can be done using already tested specifications without having to go back to the code.
CertiK Virtual Machine (CVM)
CVM provides information on the security of smart contracts and blockchain to the virtual machine code, opening a wide range of different ways:
access;
checks;
dependencies;
dynamically establishing blockchain security and smart contracts.
The goal is to create a secure, simple and efficient virtual machine code that will help form new original applications for the blockchain world.
DeepSEA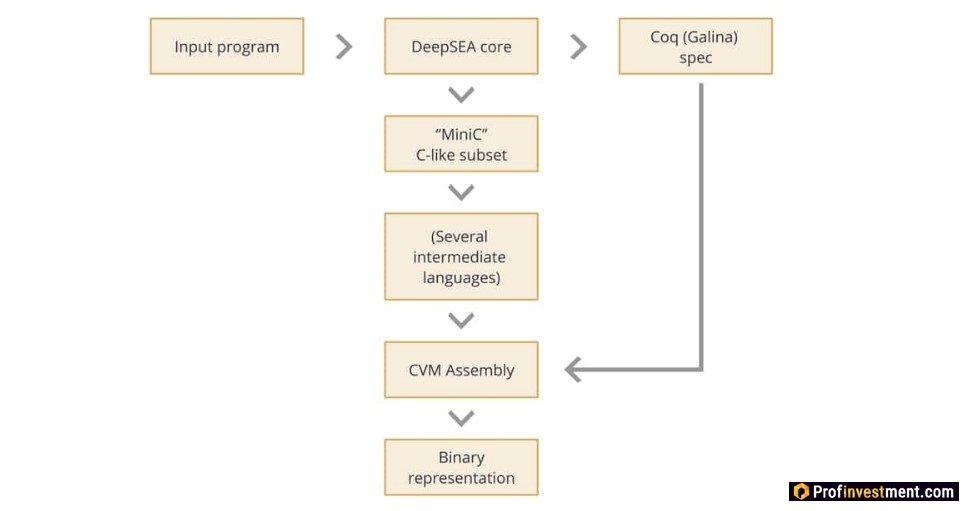 The DeepSEA programming language is used to write smart contracts, while making it possible to process even the most complex code by validating it with the Coq proof tool.
The language is an optimized solution that helps combine smart contracts and Coq to apply verification to tasks of any complexity. The four key principles of DeepSEA are: equational reasoning (translating each component into an appropriate functional specification), layer-based specification, built-in abstraction to structure complex tasks into discrete steps, and encapsulation and composition to validate layers one at a time.
CertiKShield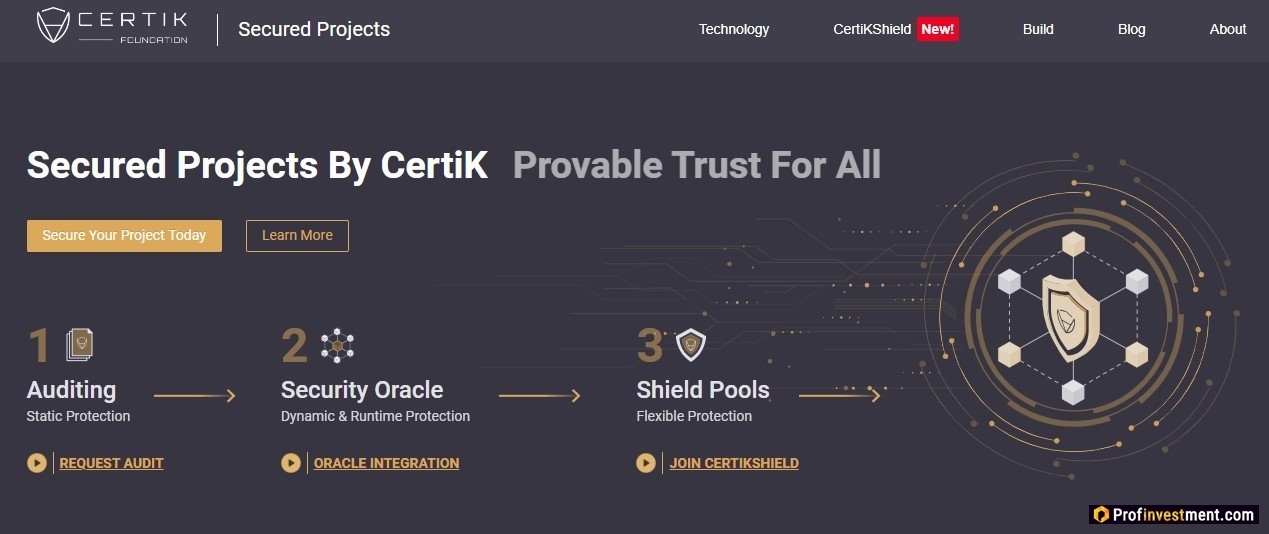 A new tool designed as a decentralized solution to recover cryptocurrency assets lost or stolen as a result of security concerns of any blockchain network. Oracles assess security in real time, after which participants in the decentralized network can provide collateral, receive rewards and vote on proposals to protect blockchain communities. Dozens of platforms are already supported within the list of protected projects, such as Aave, Celer.Network, Binance, Kava, Matic, etc. CertiK has allocated 1,000,000 CTK to fund the compensation pool
DeepWallet wallet for CertiK (CTK)
Accessible via a web browser, the DeepWallet wallet allows you to:
view the balance of CertiK (CTK) tokens;
send and receive tokens;
use the award delegation system.
Unlike a number of traditional wallets, DeepWallet has additional advanced features that allow users to delegate staking rates as well as deploy their own smart contracts.
CTK token and its receipt at Binance Launchpool
CertiK's cryptographically secure platform utility token (CTK) acts as a passing expression of the functions specified in the platform protocol. It performs important functions in the operation of the entire ecosystem and is the only service token of the project.
Functions of the CTK token:
A secure way to pay and settle between members.
An economic incentive to encourage users to contribute and support the ecosystem.
Payment of gas fees to incentivize the decentralized community of nodes to provide resources for transaction confirmation (staking).
A utility token that can be used as collateral for pools.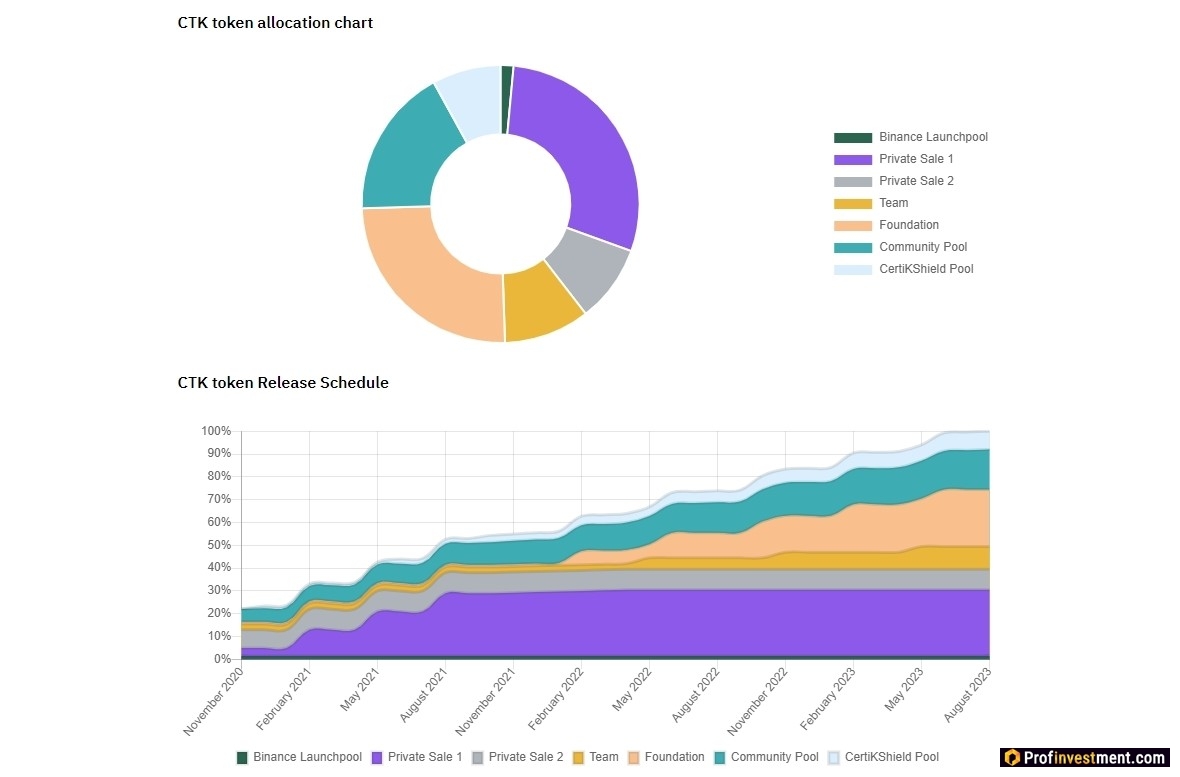 Total issue – 100 000 000 CTK, of which Launchpool will be distributed 1 500 000 (1,5%), namely:
1,050,000 CTK in the BNB pool
225,000 CTK in the BUSD pool
225,000 CTK in the CTK pool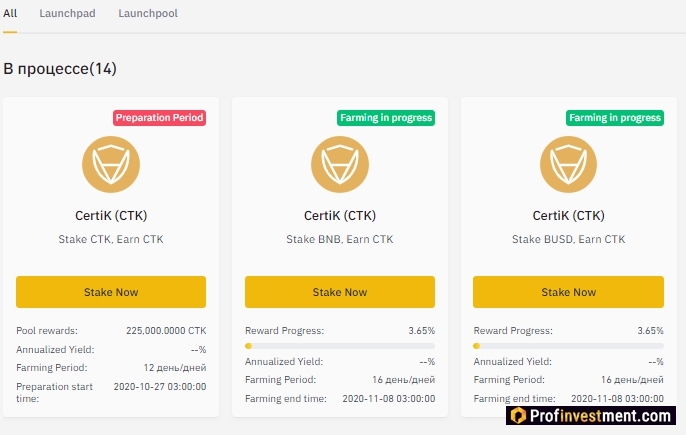 The start date for farming is October 23 (for CTK pool October 27). End date November 8. Account verification is not required to participate.
It is enough to deposit funds into one of the proposed pools and wait until the distribution is completed. For example, for a BNB pool, the minimum amount is 0.1 BNB: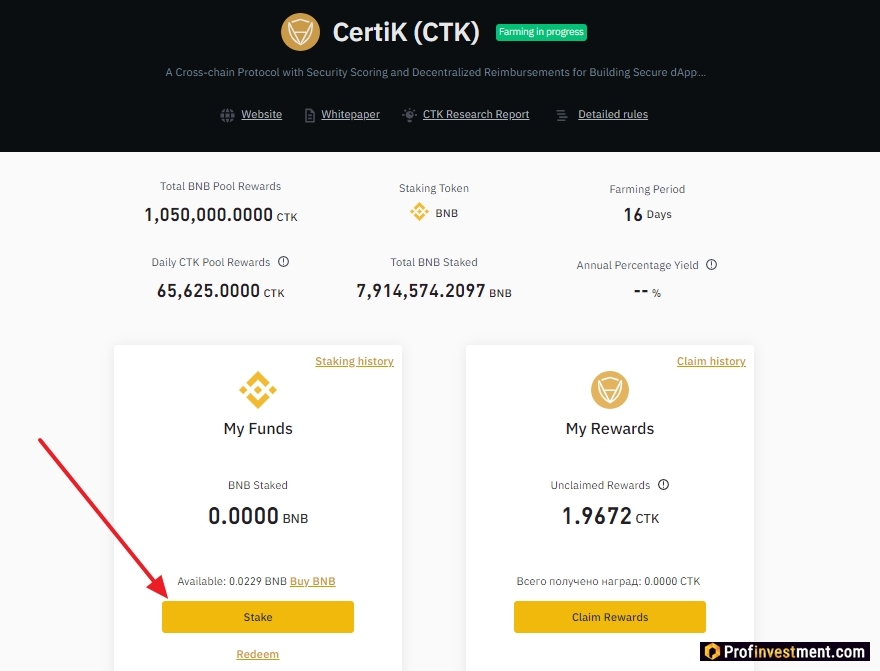 Advantages and disadvantages
Pros:
The ability to receive a token on the Binance Launchpool.
A product with a pronounced utility that will contribute to the creation of better quality decentralized applications.
A system of compensation for losses incurred due to the insecurity of any blockchains.
Advanced programming language
Own already working wallet.
The upcoming mainnet launch.
A lot of information about the features of the project, detailed and understandable White Paper.
Minuses
There is no information about the team and advisers.
There is no detailed roadmap.
Competition from well-known audit projects (Quantstamp, Zeppelin, etc.).
Conclusion
At the moment, part of the CertiK ecosystem is already operational, partnerships and integrations are actively being concluded. The plans include the introduction of a reward system in CTK tokens for collateral providers, large-scale hackathons, partnerships with CoinMarketCap and other aggregators. All this, if properly executed, will contribute to the development of the project.