TDownload Phoenix miner 5.4c: setup instructions AMD+NVIDIA GPU Miner [2021] – he assembly of applications for mining cryptocurrency has long been put on a commercial basis. Fierce competition in this market segment is driving the development of the crypto industry. Thanks to the cheap and easy-to-use software, mining of virtual assets has become available to a wide range of users.
In 2017, the vast majority of GPU mining farm owners used Claymore's Dual GPU Miner to run on the Ethash algorithm. The emergence of a new phoenix miner utility from anonymous developers was viewed with skepticism, many doubted that this program would be able to compete with claymore. And, it would seem, why do we need another program for the extraction of ethereum, especially since the first versions could not work in dual. But the phoenix miner, thanks to a number of advantages, was able to gain a foothold in the market, gained deserved popularity and eventually became a leader.
What is Phoenix miner?
Phoenix Miner is software for mining virtual coins on AMD and Nvidia video cards. It supports combined rigs of red and green gpu devices, has the lowest devfee rate and the highest hash rate. You can download PhoenixMiner 5.4 c from the Bitcointalk forum.
Official download link – https://mega.nz/#F!2VskDJrI!lsQsz1CdDe8x5cH3L8QaBw
The application uses the same command line syntax as Claymore, so switching from one miner to another will not be a problem.
Important! In November 2020, the Ethereum Classic (ETC) coin changed the mining protocol, now it runs on a modified version of ETCHash. Mine the classic only PhoenixMiner 5.3 b or an even newer version, otherwise there will be only one rejection.
The DAG ETC is about 2.5 GB in size, which means that 3GB and 4GB cards are still relevant. Therefore, do not rush to sell four gigabytes, they will last for several more years. High volume cards can mine Ethereum as long as PhoenixMiner 5.3 E or later is used.
When the Ethereum network passed the 374 era, the hashrate on cards with 4 GB of video memory began to fall. Required the use of integrated graphics or a GPU with 6 or 8 GB of video memory as the main video adapter. However, despite all these measures taken, it makes no sense to mine it at four-gigabytes, because due to the work on the trimmed DAG file, the hash rate dropped almost three times. It is more profitable to mine RVN or the same Ethereum Classic, and even if ETH costs twice as much, with such a hashrate for four-gigabyte cards, it will not be the most profitable coin.
Changes in version 5.4 c:
Work with DAG eras up to the 500th.
The latest Windows Nvidia drivers are supported.
The new lineup of Nvidia RTX 30 cards is supported.
Automatic switching between different types of DAG file buffers (e.g. ETH / ETC).
Undervolting (-mvddc) works on older AMD drivers (including the 2017 beta blockchain driver).
Added support for latest AMD Windows 10 drivers 20.12.1 and 20.11.3.
Added support for AMD Hawaii cards.
Improved compatibility with Vega and Navi graphics adapters. The driver must be 20.5.1 or newer for Win10, or 20.10. x or newer for linux.
Fixed other minor bugs.
Many other minor improvements and fixes have been integrated.
What algorithms does the program support?
Phoenix miner nvidia / amd 5.4c mines crypto coins on algorithms
Ethash;
Bashash;
ProgPOW.
At the same time, payment to the developer takes place in the same cryptocurrency for which the phoenix miner is used to set up production. That is, when you mine CLO or DBIX, devfee runs on the same pool, without reloading the DAG file, which saves a lot of time. The exception is some young projects created on the basis of Ethereum, for example, the Perkel cryptocoin.
Сравнение Phoenix miner vs Claymore vs Ethminer
The developers of the phoenix miner initially declared their program as the main competitor to the leader among the software working with Dagger Hashimoto Claymore's Miner. At that time, there was already an alternative application to claymore, Ethminer.
Built to run Nvidia GPUs on Ethash. But, the Ethminer team could not achieve competition in simplicity of efficiency with claymore. When choosing between Claymore and Ethminer, most chose claymore, but with the phoenix miner, things were a little different. In the fall of 2020, Claymore's Miner practically pulled out of the race, giving way to Phonenix. Now the main competitor of the phoenix on ETH / ETC is Teamredmine for red cards, and T-Rex for green cards.
Phoenix miner outperforms claymore in speed by 1-2% and according to user reviews it works more stably with video cards of earlier versions. Ethminer works better with Nvidia; on AMD cards, additional parameters must be selected to improve performance.
How to set up a miner
For Phoenix miner, the setting is carried out in the text file config or body shirts are created to work on different money.
How to start mining
Write down the basic connection parameters and the miner will start. Sample configuration
-pool eu1.ethermine.org:4444
-pool2 us1.ethermine.org:4444
-wal WALLET.WORKER
Write your Ethereum wallet address and farm name instead of WALLET.WORKER and start mining. The reserve pool is indicated in case of connection loss. This problem sometimes occurs even on large servers. Extra options:
-stales – send data to the ethash pool: 1 – yes (by default), 0 – no;
-proto – protocol, some pools require this value;
Protocol types
miner-proxy stratum;
eth-proxy – suitable for most services (installed by default);
qtminer (e.g. ethpool);
EthereumStratum / 1.0.0 (nice hash compatible);
EthereumStratum/2.0.0;
-coin – the cryptocurrency in which the commission is paid to the developer (devfee);
-amd – mine only with AMD;
-acm – start AMD calculations mode on supported GPUs;
-nvidia – work only with Nvidia;
-gpus – use only the designated GP (if there are more than 10, separate the indices with commas);
-me – mining intensity (0/14; 12 by default for Rx and GTX 10-series video cards). You can register this option separately for each GPU;
-gt – GPU settings parameter (6/400). The default is 15. Adjustable using the "+" and "-" keys in the miner's console;
-clKernel – OpenCL kernel option: 0 – universal, 1 – optimized, 2 – alternative, 3 – turbo (1 by default);
-nvKernel – Nvidia kernels option: 0 auto (default), 1 old (v1), 2 newer (v2), 3 latest development (v3). V3 kernels are only supported on GTX10x0 GPUs. It is allowed to write this option separately for each GPU;
-tt – target value of the GPU temperature (0 – no control, 1-4 – only monitoring);
-fanmin – limiting the minimum speed of the cooler;
-fanmax – maximum rotational speed of the cooler in%;
-fcm – fan control mode (0 – auto, 1 – use VBIOS parameters, 2 – manual control; default: 0);
-tmax – maximum fan control temperature;
-Powling – GPU power limit in% (from -75 to 75, 0 by default);
-cclock – core frequency;
-cvddc – core voltage;
-mclock – memory frequency;
-mvddc – memory voltage;
-tstop – stopping mining in order to avoid overheating of the GPU;
-tstart – resumption of work when the temperature of the card drops to the specified mark;
-mt – modification of timings on the fly to achieve the maximum hash rate without flashing the video card. The option is active only in Windows for AMD (0 – default VBIOS values; 1 – faster timings; 2 – fastest timings);
-lidag – slows down DAG generation to avoid crashes when changing DAG epochs (0-3, default: 0 – fastest, 3 – slowest);
—rvram – minimum free VRAM in MB (-1: Do not check; default: 384 for Windows and 128 for Linux).
-ttli – lowers the intensity of the graphics adapter when the temperature is close to critical. The default is 0 (the option is not active). It is used when the -tmax parameter fails. If you write both values ​​in the batch file, then the -tt parameter should be less than -ttli.
-straps – memory overclocking (only new Nvidia cards). You can enter numbers – from 0 to 6. The default is 0, which means the use of standard parameters. Each level has a specific set of timings. Fastest level 3. Parameters from 4 to 6 are equal to combinations from 1 to 3, but with a slower refresh rate.
-nvmem – overclocking of Nvidia video cards with GDDR5 video memory, 2 – GDDR5X.
-rxboost – memory refresh rate parameter (only AMD cards).
Additional parameters can be omitted, there are other ways to control the rig. However, the values -tstop and -fanmin can insure against equipment breakdown. The -tstart parameter starts mining when the card is cold, but if the graphics chip is out of order, this option is useless. And don't use -tstart 70 if you don't have a top-end graphics card.
For most models used in mining, such as Rx 470/570, the operating temperature in mining does not exceed 65/68. Some PhoenixMiner parameters can be written separately for each of the video cards.
For example, to specify the -gt value for all GPUs, write:
-gt 90, but if you want to specify a different GT value for each of the cards, write, for example, like this:
-gt 20,15,40,90, 90, for a drilling rig with five GPs. This will set GT to 20 for the first GPU, 15 for the second, and so on.
Possible problems and solutions
If the program does not start, first of all check the Phoenix miner batch file or config. To find the error easier, put pause at the end of the file. This command will prevent the terminal from closing, and you will be able to see which of the parameters is specified incorrectly.
Download Phoenix miner at least 5.3b. And if you are using the latest release of the video driver, then only PhoenixMiner 5.4 c and be sure to switch the GPU workload to the "Calculate" position. The program will automatically detect the cryptocurrency for mining for the developer without reloading the DAG file. If you register an altcoin that is not included in the list of devfee coins, the miner will not start or will mine another cryptocurrency for the creator.
Failures in the process of work can occur for various reasons, problems can be both in the hardware and in the software, or the server. You can get acquainted with the information regarding the problems arising in the process of mining cryptocurrency and ask questions to more experienced users on the mining forums. A special section of Phoenix miner on Bitcointalk has 200 pages dedicated to the operation of this software.
Ready bat files
In order not to overwrite the configuration when switching to another pool, create a Phoenix miner batch file into which you can enter all the above parameters.
Setting for Nvidia nanopool cards:
PhoenixMiner.exe -pool eth-us-east1.nanopool.org:9999 -pool2 eth-asia1.nanopool.org:9999 -wal ADRESS.worker name -nvidia

pause
In order to use this data to run the phoenix miner, you must:
Copy them to a clean Windows Notepad file,
Instead of ADRESS.worker name, specify the wallet number. farm name
Select the "Save As" option and name the document file.bat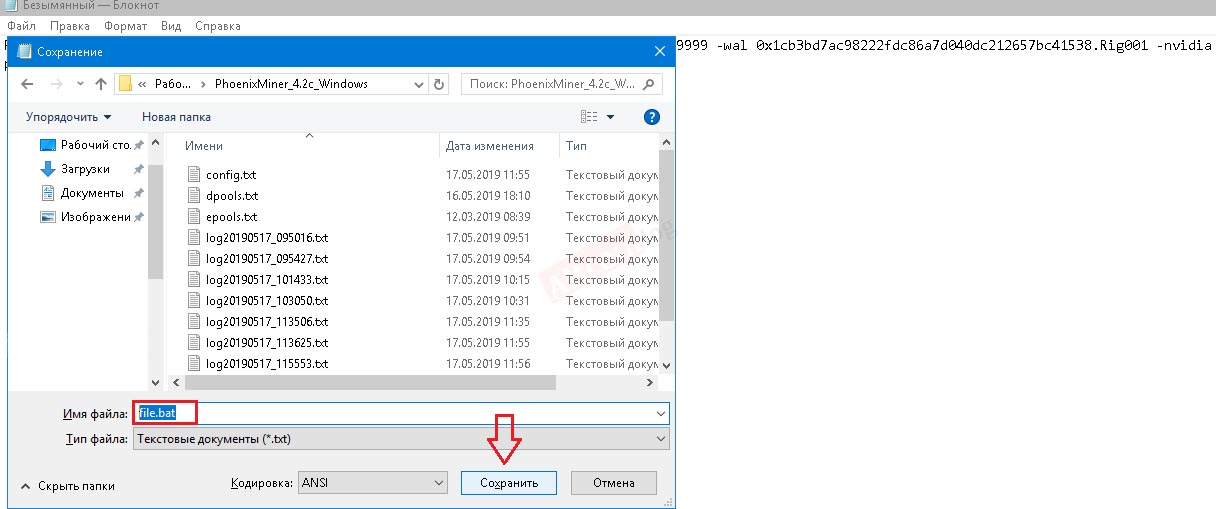 You can choose to save the miner folder or place it somewhere else, rename (without changing the bat extension) and then copy it to the miner folder. This is done in order to be able to store multiple executable files paired with PhoenixMiner. But keep in mind that the batch file will not start outside the phoenix folder.
You can earn bitcoins by working on the service
najshesh
.
Sample batch file Phoenix miner Nicehash:
PhoenixMiner.exe -pool stratum+tcp://daggerhashimoto.eu.nicehash.com:3353 -wal YourBtcWallet.воркер -pass x -proto 4 -gt 70

Pause
Phoenix is ​​suitable as a replacement for the main miner of the nicehashminerlegacy service for mixed mining farms (amd + nvidia).
Conclusion
Phoenix miner 5.4c application, one of the best miners for working with Ethash on any video card. And as long as there are profitable coins on this algorithm, the miner will be in demand.
---
Subscribe to our resources and read comments, sometimes smart people write smart things there.
---
Related materials:
(Download Phoenix miner 5.4c: setup instructions
)