Surface Book 3 will be the flagship product of Microsoft's new Surface line, a device on which we already have many technical details – as well as on prices – and which should debut together with the Surface Go 2 and the new Surface Dock 2.
The imminent launch of the new Surface Book 3 is now confirmed also by the recent certification obtained at the FCC, which, although not expressly mentioning the name of the device, clearly shows " Microsoft Corporation Portable Computing Device " with model number 1899.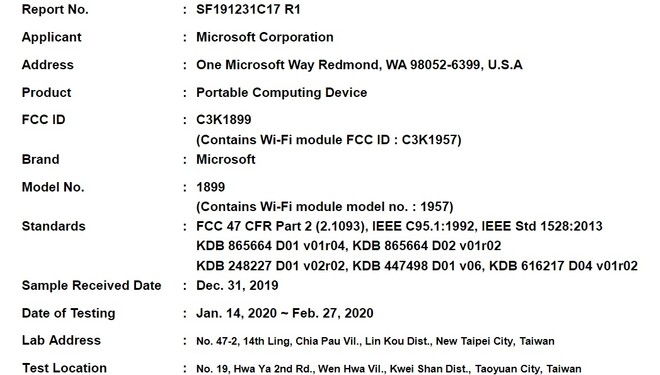 Surface Book 3 will arrive on the market in 13.5 and 15 inch versions , will use Intel Core 10th gen processors and will offer an excellent memory department with a maximum of 32GB of RAM with 1TB PCi-E SSD . Among the various options available, there should also be the possibility of using professional graphics cards of the NVIDIA Quadro line, in addition to the latest generation WiFi 6 connectivity.
As for prices, the 13.5 "Surface Book 3 should have a starting price of around 1000 euros, the top model from 15" instead in its most powerful configuration could touch 4000 euros.