Test – be quiet! Straight Power E9 580CM
: Specs | Price | CPU | Profitability| Hashrate| best Coins | Config | Advantage (Pros) and Disadvantages (Cons) and other important features that will help you make better decision.
Hi all !
Another power supply from be quiet! in test today, after the Pure Power L8 500 here is the Straight Power E580CM! Behind this name hides a 580 Watts modular power supply with an 80Plus Gold certification, which should lead to a power supply that heats little and can power a gamer config without worries.
Faithful to the brand, the box takes on a very dark and classy visual, the front side displays the main characteristics (80Plus Gold, modular, etc.) while on the back side you can find the dimensions and the power table.
Everything is well packed, the power supply as well as the modular cables are in bubble wrap.
The bundle consists of:
1 be quiet Straight Power E9 580CM (logique!)
4 hose clamps
4 fixing screws
1 power cord
Modular cables
1 manuel
Here is the list of available cables:
be quiet! Straight Power E9 580 CM
24 pin
55 cm
4 + 4 pin (Processor)
55 cm
Sata + Sata + 5.25 "+ 5.25" + FDD
55 + 15 + 15 + 15 + 15 cm
Sata + Sata + 5.25 "+ 5.25"
55 + 15 + 15 + 15 cm
Sata + Sata + Sata + Sata
55 + 15 + 15 + 15 cm
6 + 2 pin (Pcie) x 2
55 cm
6 + 2 pin (Pcie) x 2
55 cm
The number of connectors is very large, with 8 Sata, 4 molex 4-pin and 4 Pci-e there is enough to connect a good bunch of components without having to resort to splitters. On the other hand, I would not have been against a longer 4 + 4-pin cable because 55cm may be a bit tight for very large boxes.
As usual at be quiet! the power supply is all dressed in matte black and the workmanship is excellent. The connector colors of the modular cables will make assembly easier, only the 24-pin cable is not modular.
be quiet! Straight Power E9 580 CM
Power
580 Watts
Certification
Maximum efficiency (manufacturer)
Up to 93%
Sound level
13.7 to 21.7 dB
Modular
Yes (except 24-pin)
Protections
OCP, OVP, UVP, SCP, OPP, OTP
Number of 12v rails
4
Dimensions
160 x 150 x 86 mm
Guarantee
5 years (including 1 year on site)
All the protections are required here and the 80Plus Gold certification will ensure a very high performance, the announced noise level promises a very quiet power supply even at full capacity. A 5-year warranty (including 1 on site, which is rare) provided by the very good after-sales service be quiet!
The 564 Watts of the 12V are divided into 4 rails, the 3V and 5V on the other hand can provide a combined power of 140 Watts.
The test platform
Food be quiet! Straight Power E9 580 CM has been tested on the configuration below:
Processor: Intel Core i7 875K @ 3,2 Ghz
Motherboard: Asus P7P55D
Memory: Kingston HyperX 4 x 2 Go 1600Mhz
Hard disk: WD Raptor 150 Go
Graphic card: Sapphire Toxic 5850
The test protocol
The core i7 875K has been slightly overclocked to 3.2Ghz. The readings in charge were taken during an OCCT Power Supply test, the readings at rest were taken after 15mins on the desk.
The power supply has been tested against the Seasonic S12 600 (from 2006), Seasonic X650, Seasonic P660, Seasonic Platinum 460FL and be quiet! L8 Pure Power 500.
The consumption
Before starting, let's take a look at the performance of the power supplies compared to the be quiet Straight Power E9 580CM, indeed the different 80Plus certifications will directly influence the consumption, so this will be a good way to have concrete results. Only the S12 600 does not have an 80Plus certification because it did not yet exist at the time of purchase (but the following versions of this power supply had the classic 80Plus certification, so 80% / 80% / 80% to 20% respectively / 50% / 100% load).
With 79W at rest and 351W in charge Consumption is very controlled and the be quiet! E9 580M is on par with the Seasonic X650, both 80Plus Gold certified, they fit in a pocket square. The Seasonic P660 and P460FL naturally consume less due to their 80Plus Platinum cetification, but are also at a higher price (respectively 150 € and 135 € against 96 € on amazon for the be quiet!).
The tensions
The voltages of the Straight Power E9 580CM are very good, with a 3.3V going from 3.3V at rest to 3.28V under load, a 5V going from 5.04 to 5.03 and finally a 12V going from 12, 03 to 11.98 there is not much to say, you will not have any problems at this level! We note a good improvement against the entry level of the brand Pure Power L8 500, the load is much better collected, the Seasonic P660 and P460FL remain the most stable in this comparison but given the price still a times there are no miracles!
Noise pollution
Attention : Part to be taken with a grain of salt, unfortunately not having access to the appropriate equipment and using an android application to take the readings the measurements below are only indicative! The readings were taken 15cm from the feed.
Here again it is flawless for be quiet !, this Straight Power E9 580CM does honor to the brand's first goal, ie a very appreciable silence. At rest as in load (approximately 50% of the maximum load of the power supply) you will not be bothered by the noise, moreover there is no detectable electronic noise even the ear glued to the case, at all good!
Here we are at the conclusion of this test, what to say about this be quiet! Straight Power E9 580CM? A very appreciable silence coupled with an 80Plus Gold certification, modular and having a very attractive price, this power supply will be able to hold a gaming PC without worries even with an SLI / Crossfire configuration thanks to its 4 PCI-e connectors.
All these assets will make be quiet! Straight Power E9 580CM a very good alternative to the Seasonic G550 (more expensive) and will give you complete satisfaction!
The +
Silent
80Plus Gold
Excellent finish
Good tension stability
5-year warranty (including 1 on site)
The –
Slightly short 4 + 4-pin CPU cable
(in large cases)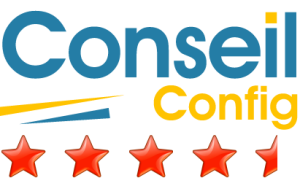 Many thanks to Armelle from be quiet! which allowed me to do this test.
Where to find the be quiet! Straight Power E9 580CM?
[phpzon asin= »B005LUXLUU » country= »FR » trackingid= »conseil-config-21″ merchantid= »Amazon » templatename= »conseil »]