Uniswap (UNI) – a token issued on September 16, 2020 by the decentralized exchange of the same name. Appeared on the exchange listing on the same day Binance… Since its inception, Uniswap has been actively growing, developing and self-supporting under the full control of the community. The implementation of UNI (ERC-20 token) is needed mainly to support governance principles that help the protocol continue to evolve.
On the Binance exchange, spot trading of the Uniswap token is available in UNI / BNB, UNI / BTC, UNI / USDT, UNI / BUSD pairs. From September 18, margin trading is available for the following UNI pairs: UNI / BTC and UNI / USDT with 5x leverage.
Bitcoinminershashrate.com editors prepared an overview of the exchange and the Uniswap token, their functional features.
The content of the article
Uniswap Chart and Price (UNI)
Exchange rate chart UNI / USTD on Binance:
Specification
| | |
| --- | --- |
| Name | Uniswap |
| Ticker | UNI |
| Standard token | ERC-20 |
| Blockchain | Ethereum |
| Total emission | 1 000 000 000 UNI |
| Current issue as of 18.09.20 | 64 998 333 UNI |
| Course on 09/18/20 | 5,8 $ |
| Market Capitalization as of 09/18/2020 | 376 064 651 $ |
| Official site | https://uniswap.org/ |
| Source | https://github.com/Uniswap |
| Twitter | https://twitter.com/UniswapProtocol |
| Exchanges | Binance, Coinbase, Uniswap, BiKi |
Features of the Uniswap exchange
Uniswap is an automated liquidity protocol for exchanging ERC-20 tokens and Ethereum cryptocurrency. It is open source software licensed under the GPL. Allows you to trade quickly and efficiently by eliminating intermediaries. Whenever possible, most actions are based on decentralization and censorship resistance.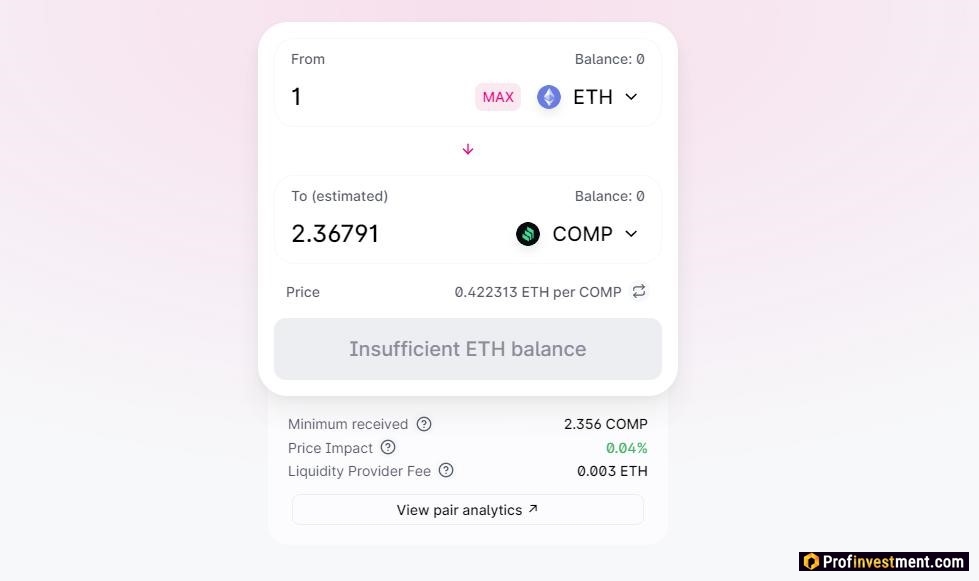 In practice, the system works on the basis of template smart contracts, with the help of which pools and liquidity markets are formed. There is no order book, central intermediary, centralized matching mechanism.
The first version of Uniswap v1 has been working since November 2018, the second (Uniswap v2) was launched in May 2020. Uniswap is a significant gas supplier to the Ethereum network due to the numerous fees for transactions in this protocol; in addition, it is one of the most requested decentralized applications at the moment.
It is based on the AMM (Automated Market Maker) system. Liquidity is created by pools with ERC-20 tokens. Liquidity providers charge a commission on each exchange (0.3%); these fees are redirected to the pool's reserve fund. Going forward, UNI holders will receive 0.05% on each commission, while liquidity providers will receive the remaining 0.25%. Uniswap is not the first project with AMM, but it definitely popularized the development of this direction, as a result of which other similar protocols began to appear.
Uniswap Token Distribution Scheme (UNI)
UNI was released with the goal of finally transforming Uniswap into a self-contained and self-contained infrastructure by supporting self-governing principles. In total, one billion UNI will be released within 48 months. The distribution is arranged as follows:
600,000,000 community members
215,101,000 – current team members and those who will subsequently work on the team for at least four years
178,000,000 – to investors making investments over four years
6,899,000 – advisors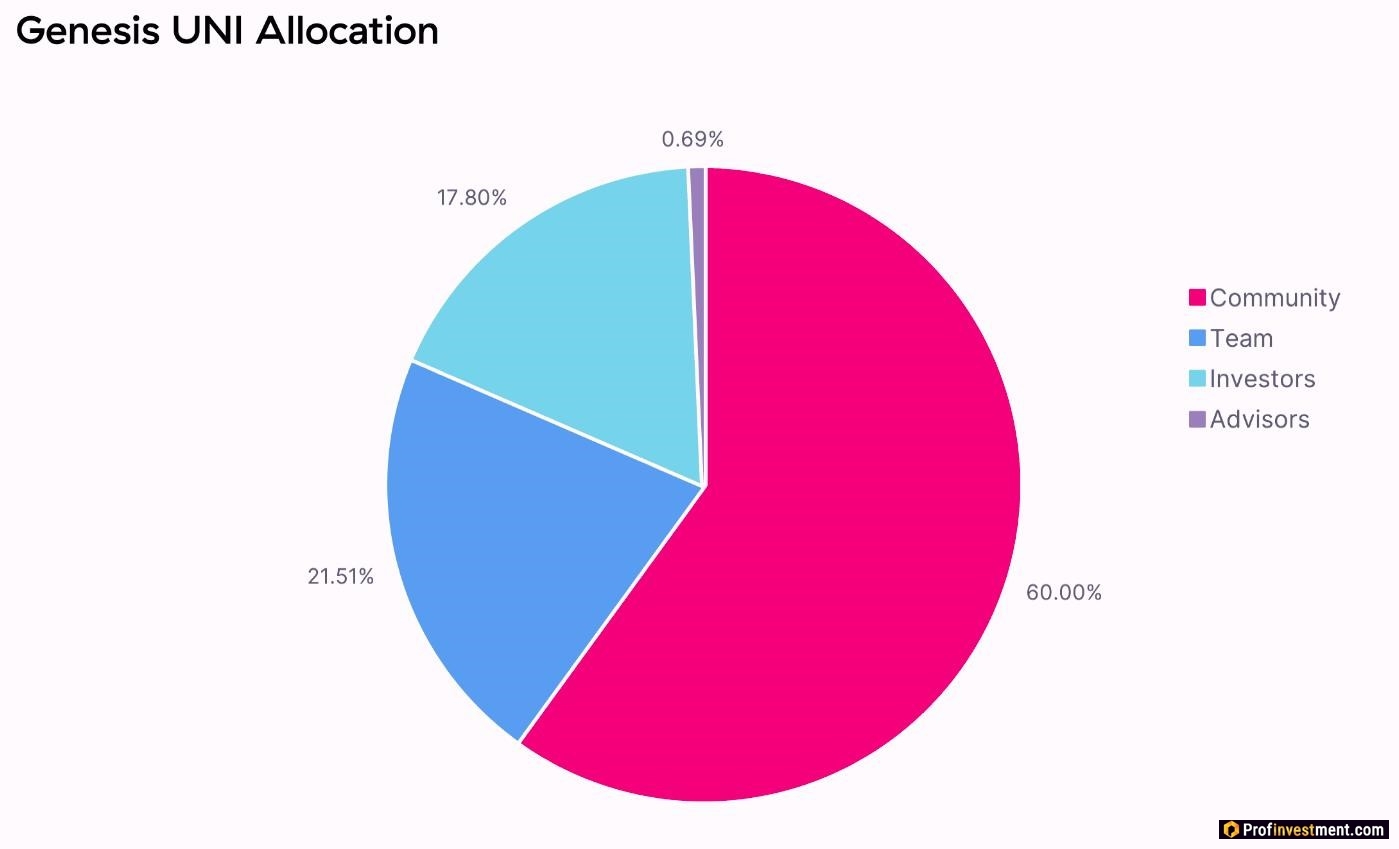 4 years later, inflation of 2% per annum will be launched, which will ensure regular contributions to Uniswap from passive UNI owners.
09/18/2020 on Uniswap, it became possible to receive a token for trading activity in the following trading pairs:
ETH / USDT
ETH / DAI
ETH / WBTC
ETH / USDC
All liquidity pools will be allocated 5 million UNI. After thirty days, participants can start voting on governance initiatives, UNI allocation for a variety of grants, strategic partnerships, adding new liquidity pools and other changes
UNI will be used for the following purposes:
Uniswap governance (voting among token holders).
Treasury management (allocation of funds for various purposes that benefit the development of the platform).
Management of protocol commissions.
Work with ENS (Ethereum Name Service).
Adjustment of the Uniswap Default List (a list of tokens added to the system as default).
SOCKS liquidity token management
An hour after the release of the token, Binance added it to its listing, and 4-5 hours later, the Coinbase exchange did it. In addition, Binance has opened trading in perpetual contracts on UNI with up to x50 leverage and USDT collateral. At the same time, the creator of Binance warned on Twitter that the coin is extremely volatile at first. Due to the high demand for tokens, fees on the Ethereum network have skyrocketed.
Where to store Uniswap (UNI)
You can store the token in the Metamask web3 browser wallet. To do this, you first need to add it to the list. When searching simply by name, the token is not highlighted yet, which means that you will have to add it manually.
Find and copy the UNI contract address on the Etherscan website.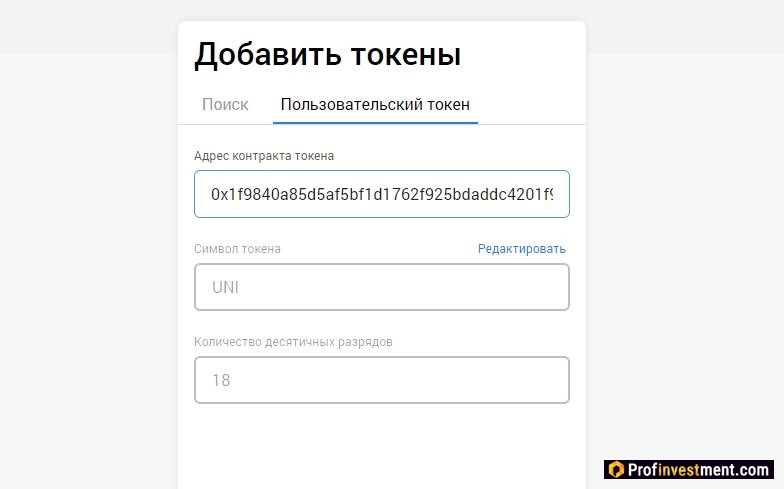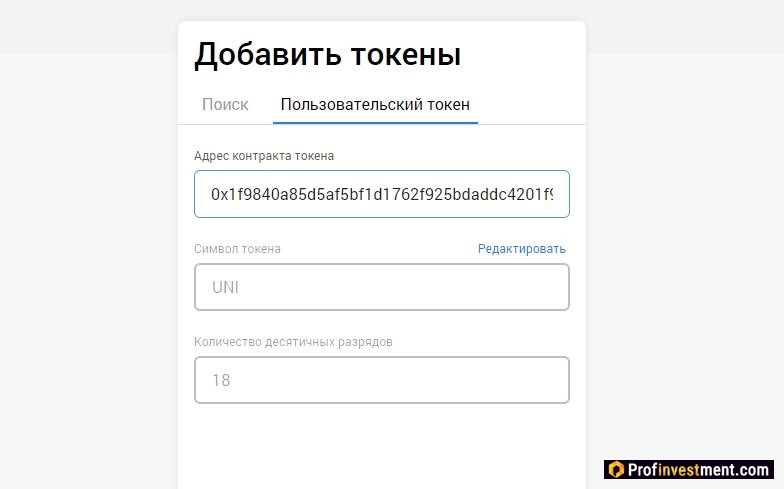 Go to Metamask, click Add Token. Go to the Custom Token tab and paste the contract address.
Click "Add token" and UNI transactions will become available in the wallet.
Where to buy, sell, trade Uniswap token (UNI)
It is most convenient to use the Binance exchange to buy a Uniswap (UNI) token, as the most popular and reliable one. Currently, the following trading pairs are available: UNI / BNB, UNI / BTC, UNI / USDT, UNI / BUSD.
Advantages and disadvantages
Pros:
Uniswap incentivizes liquidity providers by charging them commission fees.
The system is completely transparent and open source.
Support for multiple ERC-20 tokens for trading.
The new UNI token opens up wide opportunities for protocol management.
Instant token listing on major crypto exchanges.
Minuses
After the user withdraws liquidity, he stops and receives a reward.
The platform only supports assets hosted on the Ethereum blockchain.
Conclusion
According to experts, UNI may become one of the most valuable tokens in the next few years. In the two days that have passed since the release, over $ 370 million has already been invested in it. The rest depends on the actions of the development team and how they manage to meet user expectations.