The Best RTX 2060 SUPER: Review| Hashrate | Benchmark| Overclocking| Ethereum| Profitability (Earnings): In this review, we'll take a look at the 8GB version of Nvidia's GeForce RTX 2060 SUPER and all its e
The card is equipped with 1×8 Pin connectors and consumes from 150 watts to 175 watts depending on overclocking, miner and algorithm.
RTX 2060 SUPER: Specifications
| Specifications | RTX 2060 SUPER |
| --- | --- |
| Video memory | GDDR6 8GB |
| CPU frequency | Overclocked frequency: 1650 MHz |
| Energy consumption | 150 watts to 175 watts |
| Power connectors | 1x8Pin |
| Dimensions (edit) | 228.6 mm x 112.6 mm |
RTX 2060 SUPER: Specifications
RTX 2060 SUPER: Hashrate
| Algorithm | RTX2060 | RTX2060S* | RTX2070 | RTX2070S* |
| --- | --- | --- | --- | --- |
| Ethash | 36.6 Mh / s | 42Mh/s | 42Mh/S | 42H/s |
| X16r | 23MH/s | 27Mh/s | 27Mh/s | 29H/s |
| GRIN29 | 7 G/s | 6,7 | 7,6H/s | 8,4H/s |
| Beam | 32 Sol/s | 30H/s | 32H/s | 36H/S |
RTX 2060 SUPER: Hashrate
| Algorithm | RTX2080 | RTX2080S* | RTX2080ti |
| --- | --- | --- | --- |
| Ethash | 42H/s | 46Mh/s | 57H/s |
| X16r | 30Mh/s | 32Mh/s | 37Mh/s |
| GRIN29 | 8,8H/s | 9,4H/s | 10H/s |
| Beam | 41,5H/s | 46H / S | 56H/s |
RTX 2060 SUPER: Hashrate
RTX 2060 SUPER: Temperatures and internals
The first thing you need to know about Nvidia's SUPER line of cards is that we don't actually see anything that we haven't seen before.
By that, we mean that Nvidia, at least for the SUPER 2060 and 2070 versions, just took their existing TU106 and TU104 GPUs, shaved off some SMs, and actually called the older video cards "SUPER".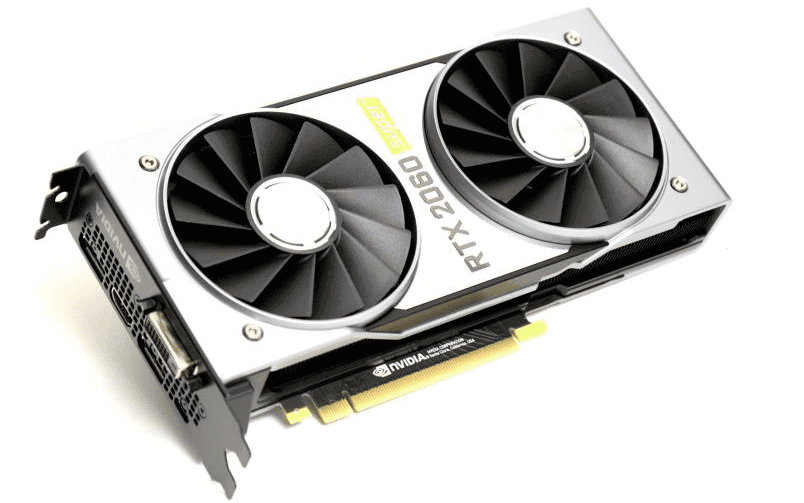 Rumors of faster 16Gbps GDDR6 memory have not materialized for these cards.
In the case of the RTX 2060 SUPER, Nvidia took the TU106 GPU and disabled the two SMs for a total of 34 and therefore 2,176 CUDA cores.
This positions the card closer to the RTX 2070 than just the RTX 2060, despite the name. She also retains 8GB of GDDR6 memory just like her big brother, so it might be more correct to think of her as "2070 Lite", Not" 2060 SUPER ".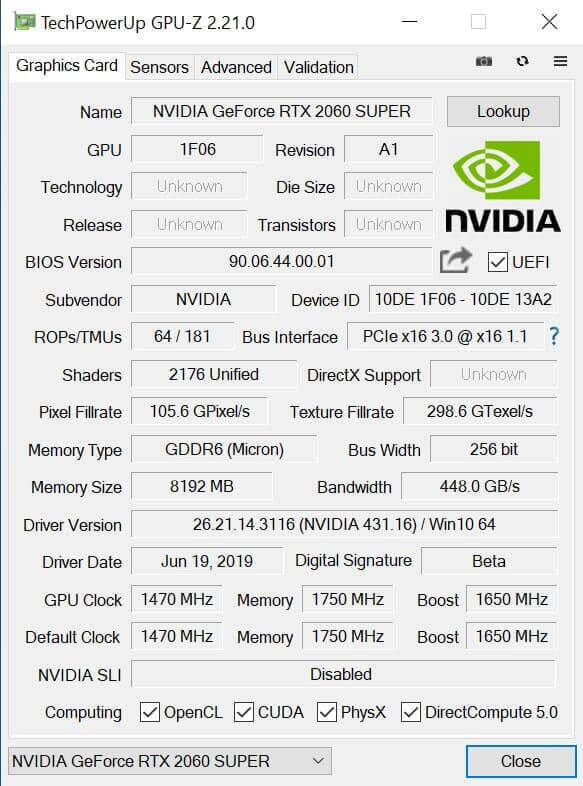 The decision to present the RTX 2060 SUPER as an RTX 2070 minus one texture processing cluster has other implications besides reducing the number of CUDA cores. This also means that the 2060 SUPER has fewer RT cores, 34 in total, and the number of Tensor cores has been reduced from 288 to 272.
The standard clock speed is also relatively low compared to other Turing cards, a boost clock of 1650MHz.
This is the reference speed, that is, the Founders Edition card we are reviewing today is a reference card, not an overclocked model from the factory, as Gigabyte, ASUS, MSI will do, overclocking the cards from the start.
Finally, as we mentioned, the RTX 2060 SUPER has 8GB of GDDR6 memory, again clocked at 1750MHz (14000MHz effective) – just like any other RTX card available. This means that memory speeds have not been increased for this SUPER card.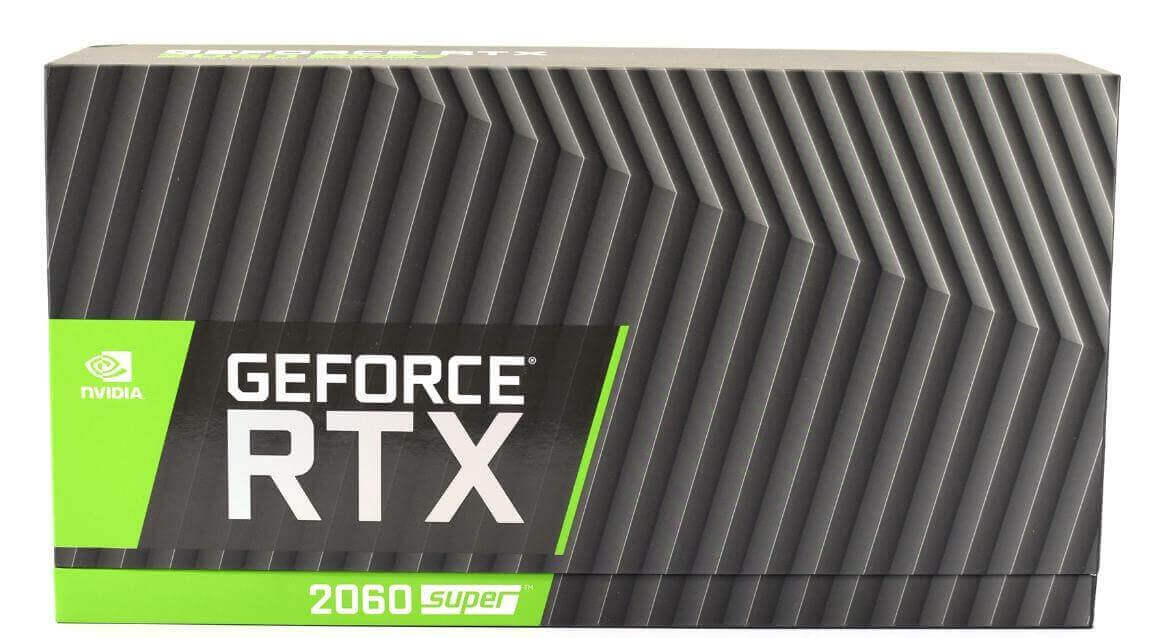 The scope of delivery is rather meager. The RTX 2060 SUPER Founders Edition box is sold in the same style as the other RTXs – the product brand name in the lower left corner and the model name.
Inside the box, there is a quick start guide and support in multiple languages, as well as the graphics card itself.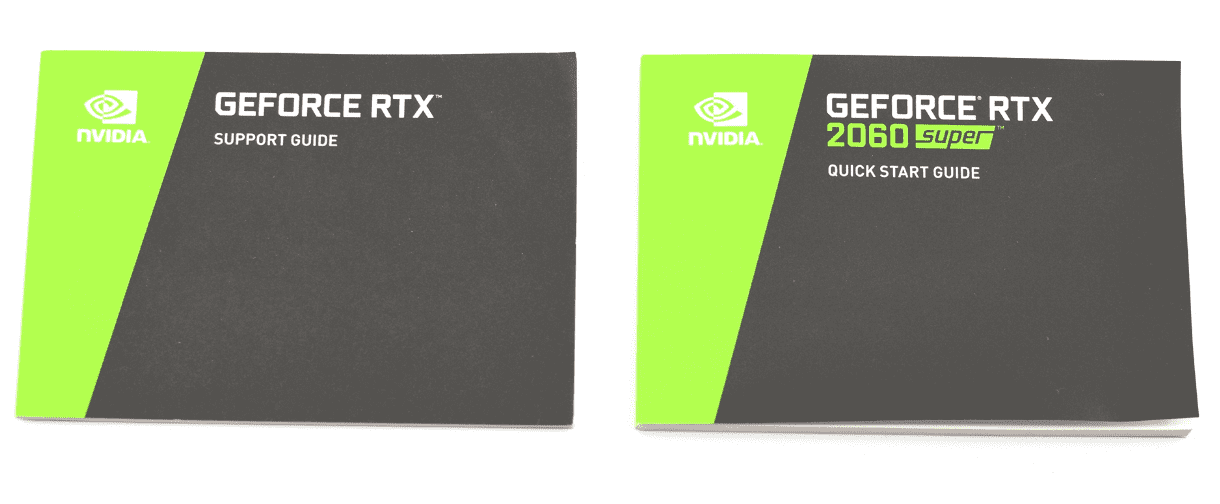 The card has the same design as the original RTX 2060 Founders Edition. This means we get the same premium build quality, with an almost all-aluminum shroud and those dual axial fans that help differentiate the RTX 20-series designs from the 10-series cards.
The first change in the 2060 SUPER is immediately noticeable as the central part of the shroud – between the two fans – is no longer black, but a silver plate with a mirrored reflective finish. You will also notice the green SUPER markings printed on this section of the card.
RTX 2060 SUPER: Parsing the video card
Considering that this is almost an exact copy of the 2060 Founders map, the 2060 SUPER is correspondingly rather small. It is 228.6 mm long and 112.6 mm high, with a standard double-slot thickness. It should fit into all mining class motherboards.
By tradition, let's start the analysis of the video card itself with its coolers (cooling systems). The RTX 2060 is equipped with 2 mid-sized coolers that cover a large area of ​​the graphics card (but not all). Simply put, it uses the same cooler and design as the RTX 2060 Founders Edition.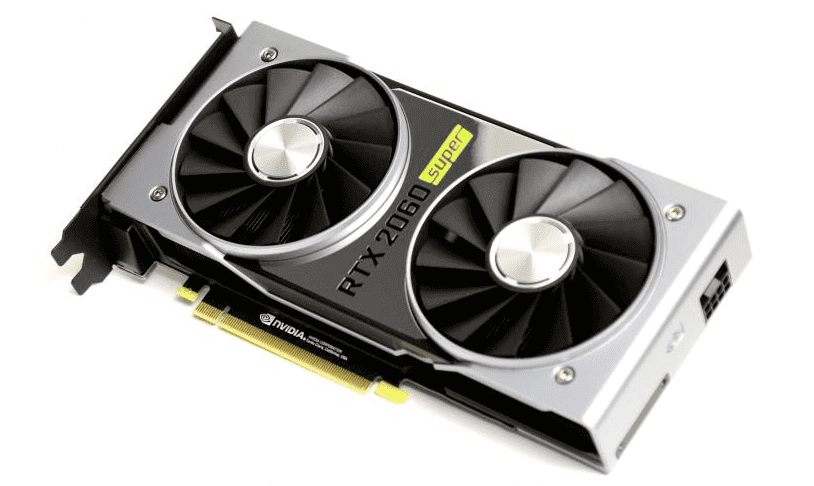 Let's not focus on the details, because, as we said, this is almost a copy of 2060.
Let's move on to the back of the video card, where the backplate is located. This model has it. This is the same silver plate used on the 2060, with a slight change to add the word "SUPER» «RTX 2060 SUPER».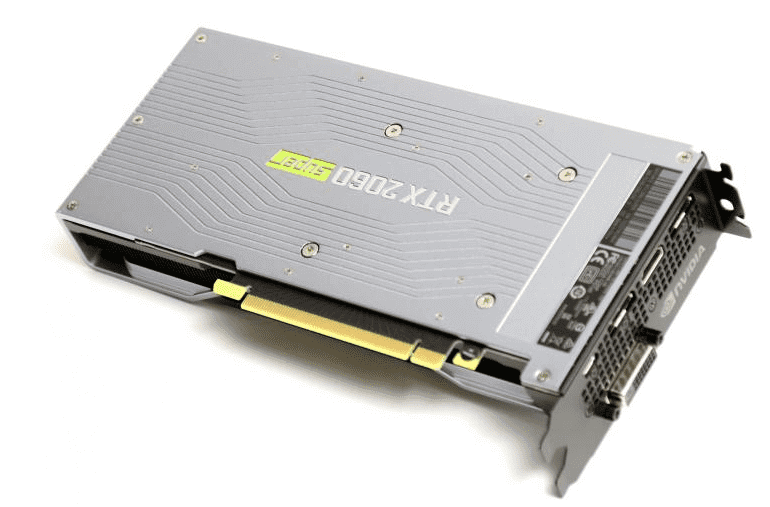 Disconnecting the backplate, we see the back of the PCB. Thermal pads from the backplate are glued to it.
The internal cooling system consists of a medium sized radiator grille. They never really stood out in the references, and for the same Asus Strix the grille was always 1.5 times thicker.
Having detached the grille, we see that another heatsink is attached to the printed circuit board.
Thermal imager
All thermal images were taken under maximum load for a general idea and understanding of the cooling system with a slight overclocked core and memory.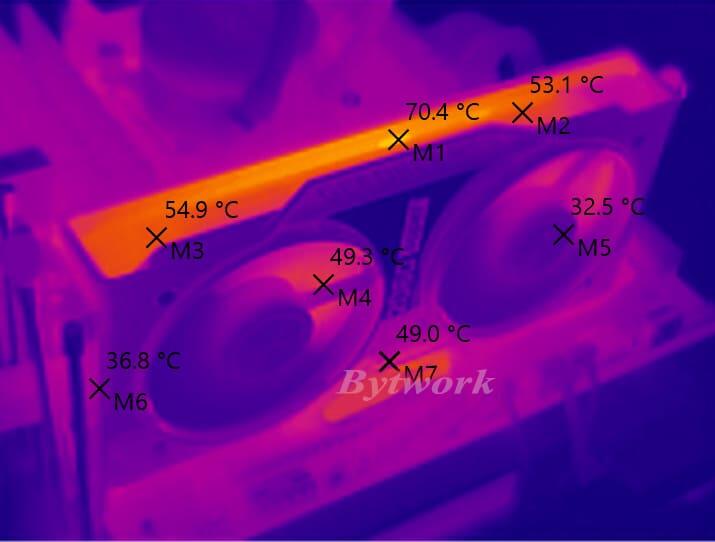 | Measurement point | Degrees Celsius) |
| --- | --- |
| M1 | 70.4 |
| M2 | 53.1 |
| M3 | 54.9 |
| M4 | 49.3 |
| M5 | 32.5 |
| M6 | 36.8 |
| M7 | 49.0 |
The hottest point is M1 (70.5 degrees). This is the area where the residual heat is blown out directly above the GPU.
As we can see, the residual heat does not accumulate inside the card, but dissipates.
In general, the temperatures are in the optimal range, no critical marks are observed.
However, it should be noted that this is only 1 video card in an open stand and 70 degrees is not a very good result.
RTX 2060 SUPER :Memory and power consumption
The video card is equipped with 8 gigabytes of GDDR6. Most commonly supplied by Micron.
As we said, the card comes with a clock speed of 1750 MHz (14000 MHz effective) – just like any other RTX card available. This means that the memory speed has not been increased for the SUPER card.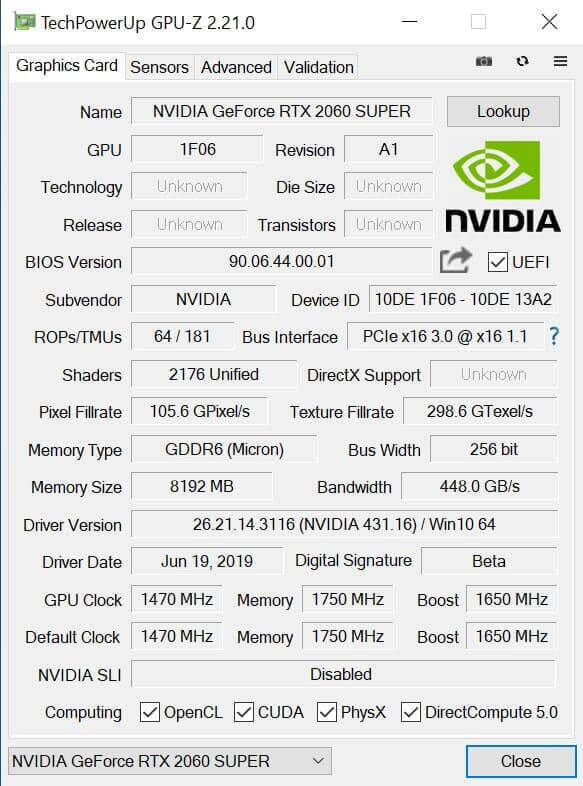 In terms of power consumption, the card consumes from 150 watts to 175 watts, depending on the miner, algorithm and overclocking, where 75 watts goes through the riser, and the remaining 75 watts or 100 watts through 1×8 Pin PCI-e connectors from the power supply.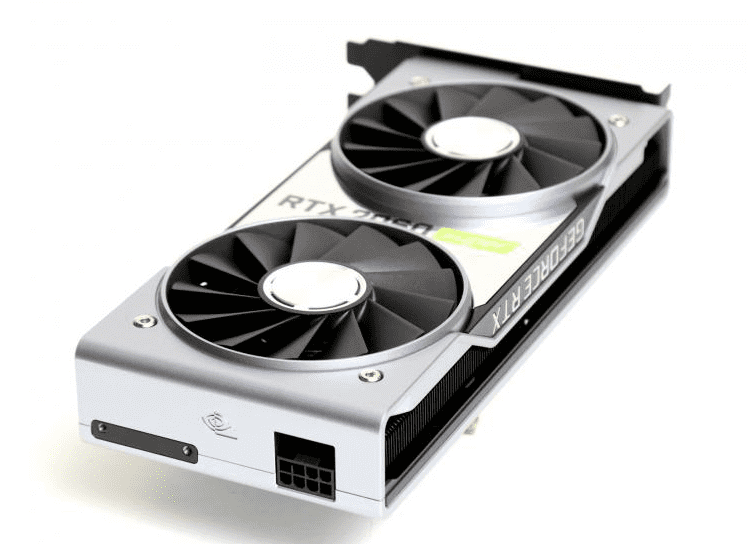 For a farm of 6 RTX 2060 SUPER video cards and a connected power system (motherboard, SSD, processor), you will need 1 1300 Watt power supply unit or 2 700 Watt units.
You can find out how to power a farm with 2 power supplies on our website.
Also on our website you can choose an excellent block for mining: the corresponding section contains detailed articles about different power supplies: their configuration, efficiency, drawdowns, ripple, parsing and much more.
Outputs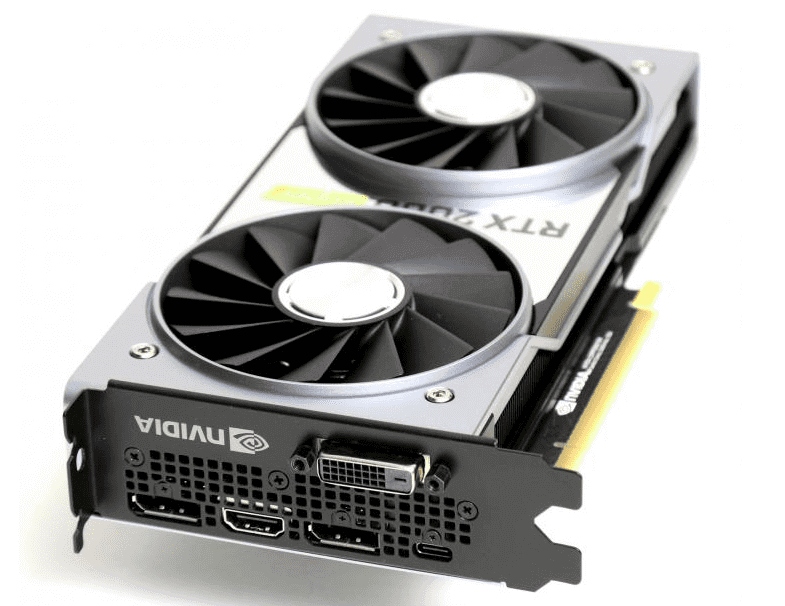 Essentially, the I / O is the same as the 2060, that is, the outputs consist of:
2x DisplayPort
1x HDMI
1x DVI-D
1x разъем USB-C VirtualLink
RTX 2060 SUPER: How much can you earn
As in 2060, RTX 2060 SUPER is excellent at mining algorithms such as Equihash (150.5), CuckooCycle, X16RT, MTP, X16R. Most of the coins of these algorithms are very profitable for mining.
Next are the algorithms, mining of which will bring you a little less profit, but they are still worth considering: Equihash (210.9), BCD, Zhash, Xevan, ProgPow, Ethash and others.

Well, at the end there are coins, the mining of which is unprofitable – these are coins that have switched to ASIC, or have been mined by ASICs for a long time, as well as coins that have been minted: Equihash, CryptoNight, LBRY and many others.
Please note that a little later we will add the behavior of this video card in mining using different algorithms. Its payback, income per day, as well as hash rate.
Output
data:image/gif;base64,R0lGODlhAQABAAAAACH5BAEKAAEALAAAAAABAAEAAAICTAEAOw==
For the most part, the RTX 2060 SUPER is no different from the 2060. This is the same graphics card, but only with 8 gigabytes of memory.
If we compare it with 2060, then it is undoubtedly slightly more powerful than it, but at the same time slightly weaker than 2070. It turns out that this is an intermediate option between 2060 and 2070, but at the same time, which will cost about $ 50 more than 2060 …
Based on all this, we called it "2070 Lite" for a reason. To overpay for a small increase in power or not is up to you.
Personally, we believe that for mining it is better to buy 2080 than to force an apartment / room with a bunch of 2060 SUPER.
From the point of view of temperatures and assembly, then there are no complaints. The card, as we have already said, does not differ from the 2060 and produces the optimum permissible temperatures.