Swipe Overview – of the Swipe platform and token, characteristics, course, where to buy / sell, features, advantages and disadvantages – Swipe – a cryptocurrency system that includes a decentralized wallet with the ability to buy and sell coins, a VISA debit card, as well as a Swipe Token (SXP) functional token, designed for staking, reducing commissions and other areas.
The app is available for iOS and Android. The Bitcoinminershashrate.com editorial staff offers an overview of this platform and specifically its SXP token.
Key features of the service:
All assets stored on the platform are insured. Swipe is PCI DSS certified.
Instant conversion of funds in real time.
Cardholders can spend cryptocurrency directly at any point of sale, instead of wasting time and commissions moving crypto to fiat.
80% of transaction and withdrawal fees can be saved with the SXP token.
On July 7, 2020, the Binance exchange listed the Swipe (SXP) token and opened trading in SXP / BTC, SXP / BNB, SXP / BUSD pairs.
The platform continues to actively develop. So, recently almost all commissions for buying and selling cryptocurrency, for using cards were removed, a test mode of the Swipe Network was launched, and cooperation with the WBTC network was established. Also, card delivery has become free.
The content of the article
Swipe Chart and Price (SXP)
SXP / USTD chart on Binance crypto exchange:
general information
| | |
| --- | --- |
| Name | Swipe |
| Official site | https://www.swipe.io/ |
| Russian language | Not |
| Year of foundation | 2019 |
| Provided product | Wallet, exchanger, card, token |
| Ticker | SXP |
| Blockchain | Ethereum |
| Total emission | 300 000 000 SXP |
| Current issue as of 05.09.20 | 66 012 799 SXP |
| Course on 09/05/20 | 1,96 $ |
| Market Capitalization as of 09/05/2020 | 128 850 377 $ |
| Wallet fee for converting to fiat and vice versa | 0% starting from 17 August |
| Commission for card payments | 0% starting from 17 August |
| Supported cryptocurrencies | Bitcoin, Bitcoin Cash, Ethereum, Ethereum Classic, Binance Coin, XRP, Stellar and 20 more coins |
| Cryptocurrencies supported by the card | Bitcoin, Bitcoin Cash, Ethereum, Litecoin, Swipe, XRP, Stellar |
| Supported fiat currencies | USD, GBP, EUR, KRW (Korean Won), PHP (Philippine Peso) |
| Replenishment methods | Cryptocurrencies, bank cards |
| Verification | Need |
| Security | 2FA, mobile number binding, PIN, biometric verification |
| Mobile app | Yes |
| Contacts | https://swipe.zendesk.com/hc/en-us/requests/new/ |
| Resources | https://medium.com/swipe, https://github.com/SwipeWallet, https://twitter.com/SwipeWallet |
Using the Swipe Wallet app
application Swipe Wallet available for mobile devices running iOS и Android.
To start using, you need:
Download and install it. Come up with an account name.
Enter your e-mail and come up with a password.
Confirm email and mobile number.
Come up with a PIN that will be requested every time you log into your account. Optionally activate Touch ID.
Swipe Wallet includes five main sections:
Wallet. The main way to interact with the Swipe ecosystem. Deposit, storage and withdrawal of fiat currencies, stablecoins and other cryptocurrencies. Tracking live market statistics, quickly obtaining data on prices and volumes of cryptocurrencies.
Section for managing your debit cards (not available in the Russian Federation).
Gift. Gift cards are placed here, if you have them.
Exchange. Fast exchange between your cryptocurrencies and tokens at the current market rate.
Profile. Here you can verify your account, add payment methods, change your phone number and address, manage your contacts, and sign out of your account.
Map of VISA from Swipe
Swipe Card Is a debit card that allows users to spend cryptoassets on purchases from over 50 million merchants around the world. Automatic conversion to fiat currency accepted by the merchant. The advantages of this method:
Instant spend with no additional conversion steps.
You can withdraw cash from ATMs.
Can be connected to Apple Pay, Google Pay and Samsung Pay.
The map is conveniently controlled via the app.
Detailed spending statistics are also in the app.
Since issuing a card in a given region requires interaction with local financial institutions and partners, this is not a quick process. The Swipe card is currently only available in the following European countries:
Austria, Belgium, Bulgaria, Hungary, Germany, Greece, Denmark, Ireland, Spain, Italy, Cyprus, Latvia, Lithuania, Luxembourg, Malta, Netherlands, Poland, Portugal, Romania, Slovakia, Slovenia, Finland, France, Croatia, Czech Republic , Sweden, Estonia.
Swipe token (SXP) and its purpose
The Swipe network works using the Swipe API off-chain, and also partially on-chain on the Ethereum blockchain. With the help of a deposit in at least one SXP, a participant can get access to work with the Swipe network. All commissions within the wallet are calculated in SXP. Transactions are updated directly on the chain and then reflected in the Swipe API.
When a transaction is made on the Swipe Network, 80% of the fees denominated in SXP are automatically burned by the smart contract and 20% is withheld.
Other ways to use the SXP token:
Spend as currency (for example, to pay for gift cards). The token is converted to fiat to perform operations.
By holding 30,000 SXP for six months, the user is eligible to order a higher level Swipe Card.
Use as a staking tool – distribution of commissions between network validators.
Vote. SXP holders are free to vote on protocol updates and options such as fees, coins burned, and more. The more tokens, the higher the vote is valued.
Where to store SXP
It is most convenient to store the token on its native platform, Swipe. Moreover, the company provides a fairly safe and convenient wallet in which you can track spending statistics, the amount of all assets on the balance sheet, and changes in their value.
In addition, you can exchange one cryptocurrency for another at any time or withdraw it to fiat (as well as vice versa). Purchase of SXP from a bank card is available (but not in rubles).
Where to buy, sell, trade Swipe token (SXP)
You can buy a token directly through the application, but it is also present on some third-party exchanges. Swipe works closely with the Binance crypto exchange and, of course, this token is listed. To purchase it, log in to the trading platform and fund your account with the asset you are going to spend.


Then find SXP in the Spot Wallet section and click on Trade. At the moment, the following pairs are supported: SXP / AUD, SXP / BTC, SXP / BNB, SXP / BUSD, SXP / USDT. Choose from these options the appropriate one.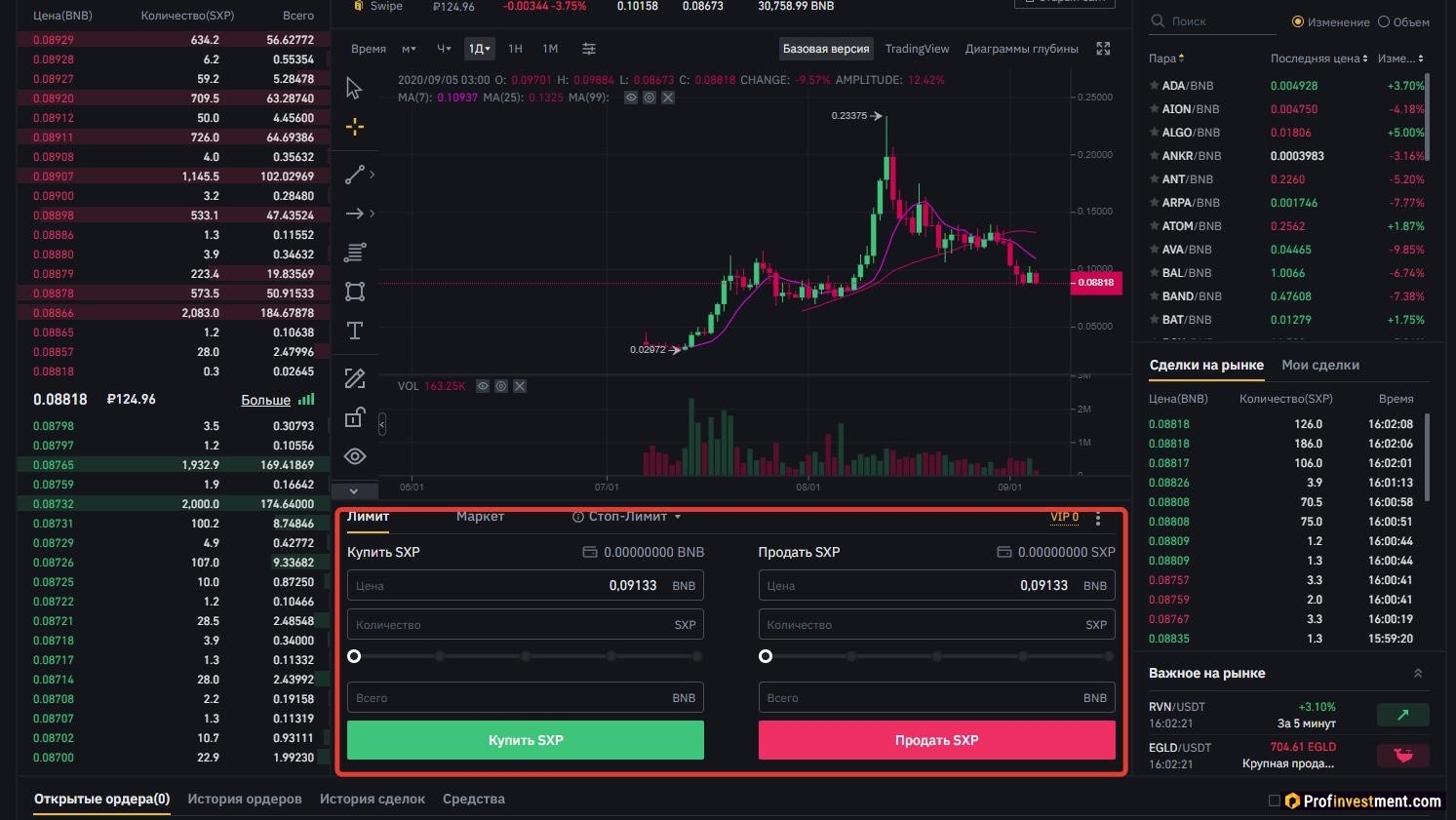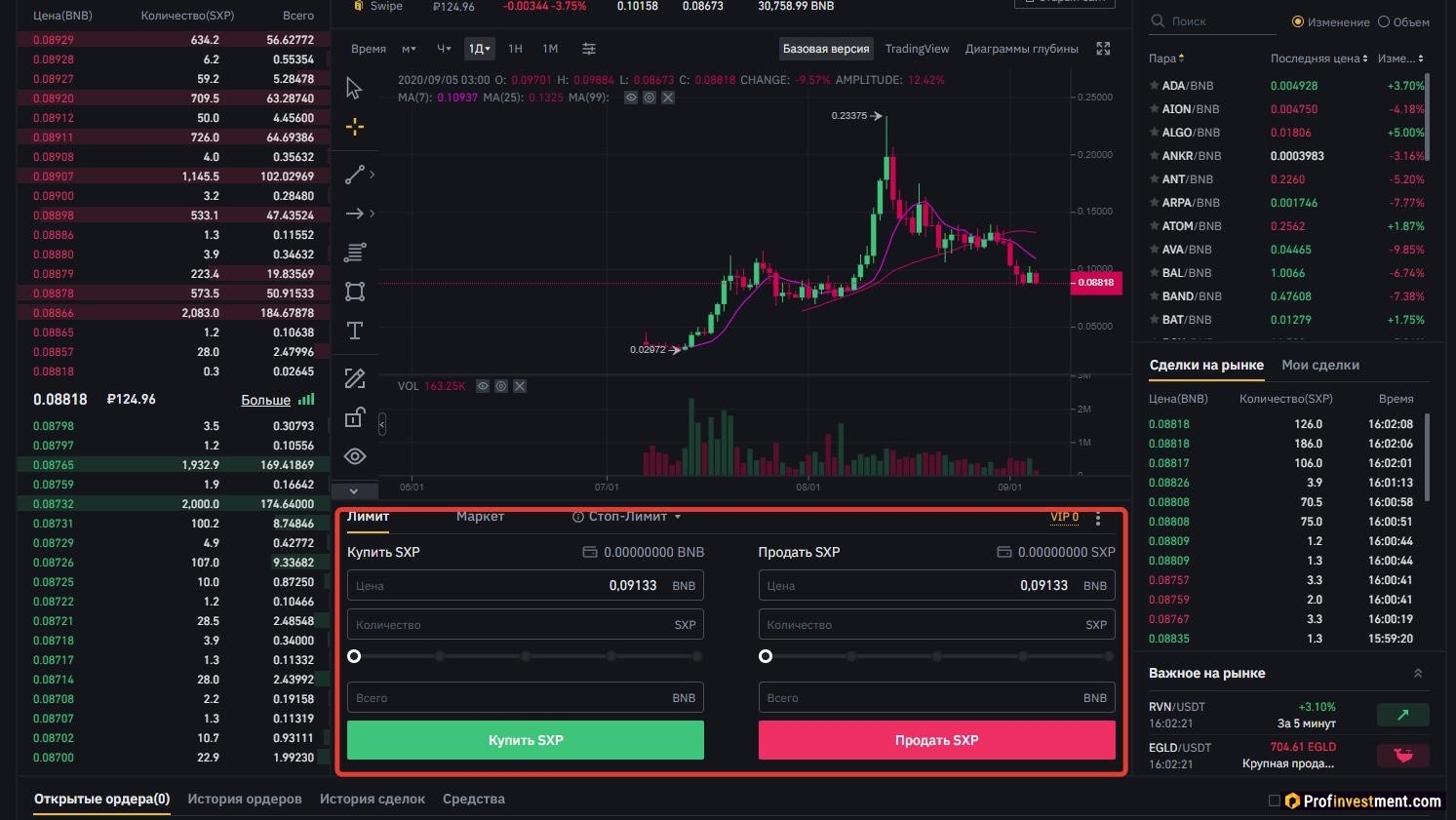 In the trading terminal, you get the opportunity to create an order of the required type, specifying either only the quantity (market), or the quantity and price (limit). After making a purchase, the cryptocurrency is immediately credited to the exchange account.
Advantages and disadvantages
Pros:
A functional and actively developing platform.
Support for many cryptocurrencies.
A plastic card.
The token allows you to save on commissions, receive cards, earn on staking, and vote on protocol changes.
Partnerships with large companies (Binance) and listing of the token on well-known exchanges.
Minuses
The ecosystem is not yet very relevant for Russia. There is no Russian language, the ruble is not supported, the card can only be ordered by residents of European countries.
Development prospects of the Swipe platform
Swipe has not existed for very long, but in its first year of operation it has established itself as an effective, convenient and cost-effective service. With the abolition of fees in August 2020, an even greater influx of users is expected as a logical result of lower entry thresholds and active interaction with the Binance exchange, which has chosen Swipe as a payment provider for its Binance Card.