The data collected from the market surveys carried out by Canalys, IDC and Gartner showed a PC sector suffering during the first quarter of the year , despite a 2019 closed with a timid rise of 0.6%. The most significant drop, however, will be seen mainly in the second quarter. The very serious economic crisis caused by the pandemic from COVID-19 , in fact, would suggest a global recession with the collapse of the demand, unemployment and bankruptcy of many producers.
In this period, however, the pandemic is forcing millions of people to stay at home with a consequent increase in the so-called "smart working" and distance learning ( here we give you some advice ). Not only that, according to what emerged from a research carried out by GfK, the lockdown is leading to a greater enjoyment of content related to entertainment . In particular, there was a 9% increase in the time spent on online gaming (on mobile and on PC).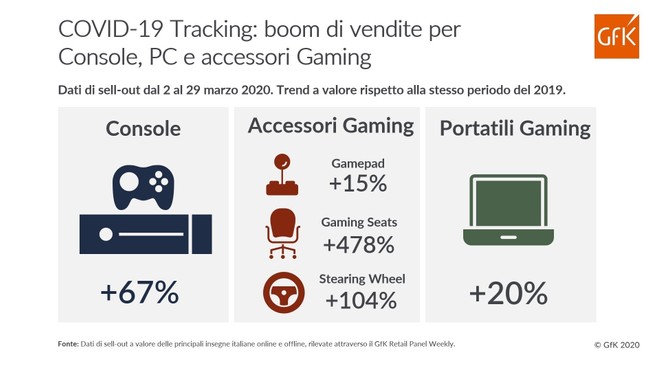 Many would also be taking advantage of the situation to buy new devices to play at home. In the period from 2 to 29 March 2020, in fact, GfK recorded a 20% increase in sales of portable gaming PCs for value and 31% per unit compared to the same period of 2019. But the increase in sales has interested in the whole gaming sector .
The consoles saw a 67% increase in value over the same period the previous year. Console accessories are also growing strongly: GfK records 24% growth in value for gamepads (video game controllers), 478% for gaming seats ( gaming chairs and armchairs) and 104% for steering wheels ( steering wheel ).