overview of cryptocurrency and decentralized trading platform, farming on Binance Launchpool, token rate chart – DODO – a new generation liquidity protocol using a proactive market maker (PMM) algorithm. DODO accepts assets from liquidity providers at prices that are as close as possible to those available in the market so that there is sufficient liquidity.
To minimize risks, a dynamic price adjustment is carried out – then those who earn money from arbitrage intervene and stabilize the situation. Dodo has a number of advantages when compared with other similar protocols: low slippage, reduced losses, uniform risks.
DODO is a control token that can be used in addition to staking, participating in fundraising campaigns, receiving discounts on commissions, and minting vDODO tokens.
DODO can be obtained from the Binance Launchpool from February 19 to March 5, 2021, if assets are blocked in BNB, BETH or BUSD staking pools. On February 19, the coin was also listed on the Binance exchange (binance.com) (trading pairs – DODO / USDT, DODO / BTC, DODO / BUSD).
New #Binance Launchpool: $DODO@BreederDodo is a decentralized exchange leveraging the Proactive Market Maker algorithm built on Ethereum and #BinanceSmartChain.

Learn more with @BinanceResearch ⬇️https://t.co/eMYuv07rQM

– Binance (@binance) February 18, 2021
The content of the article
general information
DODO chart (DODO)
DODO / USTD course schedule at Binance cryptocurrency exchange:
Protocol features
DODO is powered by an innovative algorithm called Proactive Market Maker (PMM). As the initial information, the current market rates of assets obtained using price oracles are used; the algorithm then seeks to provide sufficient liquidity near the market price of each coin. It turns out that if the rate is far from the market rate, liquidity begins to decrease rapidly.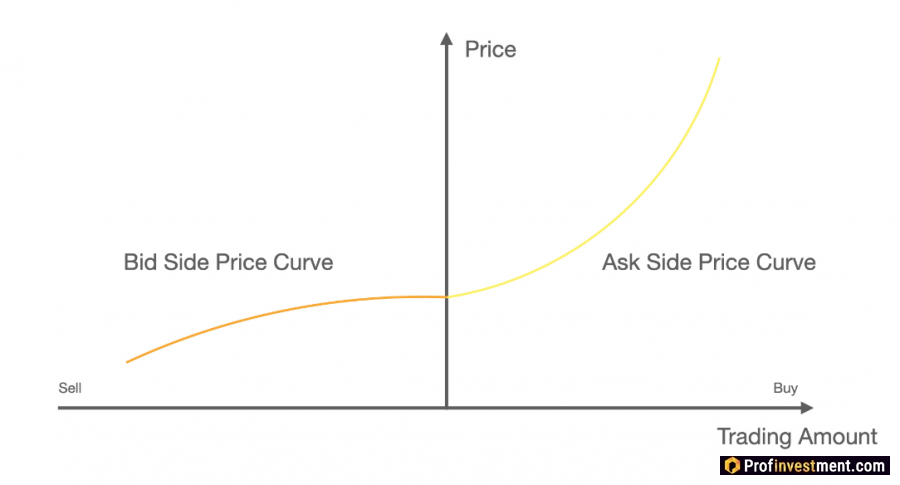 In this case, AMM passively relies on arbitrage trading to move prices. At the same time, PMM is actively moving the price curve in the same direction to ensure that the area near the market price is kept flat. This ensures that sufficient liquidity is maintained at all times.
PMM advantages over AMM:
Most of the funds are clustered near the market price, which allows for more active, high-frequency trading, thereby increasing the use of funds.
The requested liquidity is determined solely by the number of base tokens in the pool, and the trading liquidity is determined solely by the number of quoted tokens in the pool.
Promotion of arbitrage trading. Arbitrage trading makes sure that the number of assets in the pool is always approximately the same as the number of tokens entered into the protocol by liquidity providers. Such a scheme smooths out losses for liquidity providers, making deliveries to DODO a low-risk operation.
Under DODO, the vendor is not required to deposit paired tokens. He can deposit, at his discretion, any number of base or quoted tokens. This greatly increases the flexibility for suppliers to market.
IDO (Initial DODO Offering)
An interesting opportunity for those who have just launched their project and want to add tokens to the DODO listing. As a rule, CEX and DEX require an impressive listing fee, but here you can do it virtually for free. Usually, the PMM algorithm needs information from the price oracle in order to get the initial value of the added asset, but if the token is not yet in any markets, this is not possible.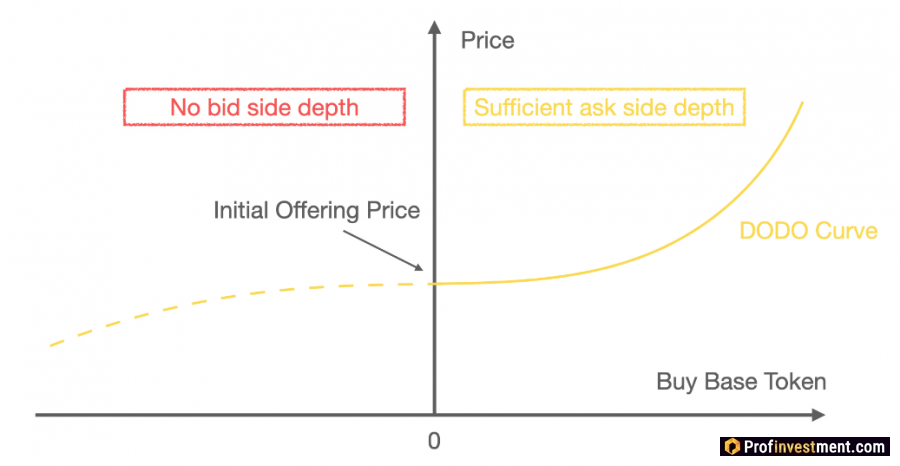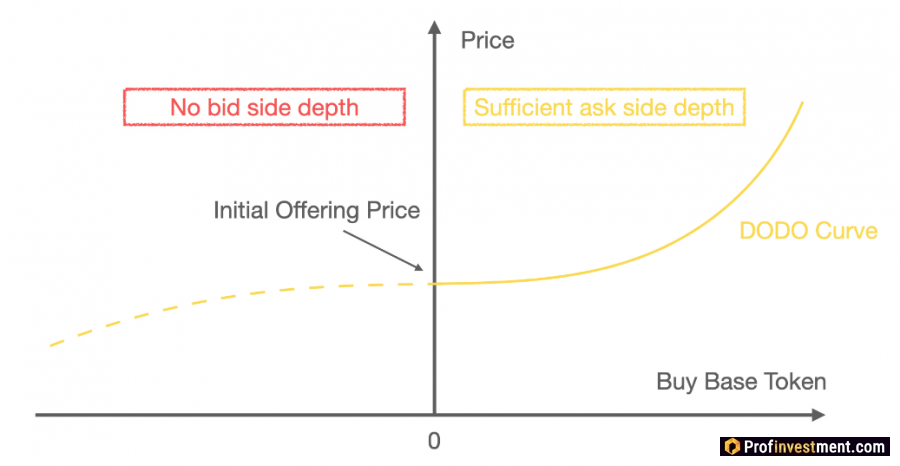 In this situation, the developer can independently set the price that he considers fair and start distributing the tokens. You will need to add your own tokens to the pool. The more tokens deposited, the better liquidity. IDO is similar in concept to an auction.
DODO and vDODO Tokens
DODO – proprietary protocol token… The following options are available for its use:
Token holders have the right to create proposals and vote on various decisions related to the management of the platform.
DODO token holders receive benefits for participating in fundraising campaigns (crowdfunding and IDO).
Additional income by staking DODO.
Discounts on trading fees when trading on the platform.
And finally, minting (chasing) vDODOs, which give the right to additional rewards and dividends from trading fees.
VDODO tokens can be minted at a fixed rate 1 vDODO = 100 DODO… When vDODO is exchanged back for DODO, a fee will be charged, this is done in order to encourage holders to keep their assets as long as possible.
The total supply of DODO tokens is 1,000,000,000… Distribution:
600 million for protocol participants depositing liquidity.
150 million for team and advisors.
100 million for private investors. This share will be locked six months after the release, and then linearly distributed over 12 months
80 million for marketing, advertising, listing on exchanges, etc.
60 million for primary investors. This share will be locked 12 months after issue, and then linearly distributed over two years.
10 million for an initial IDO offer.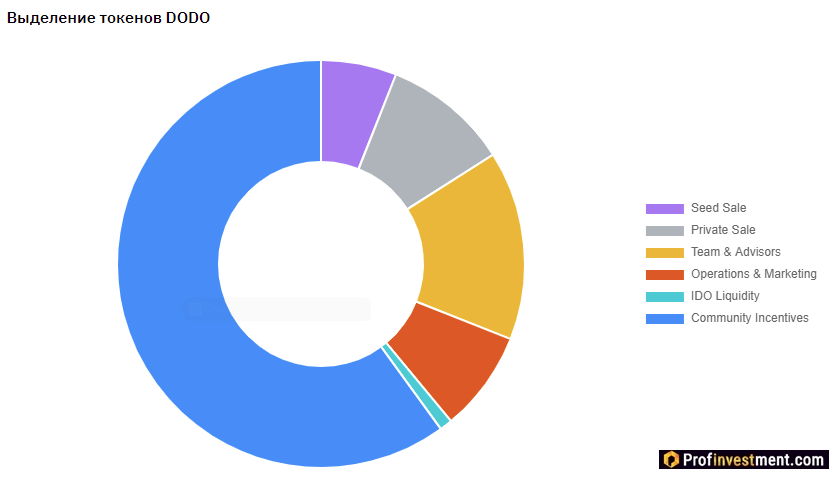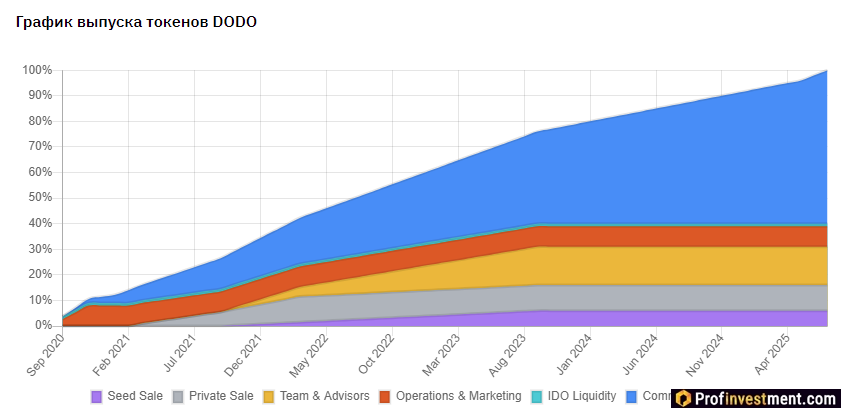 Farming at Binance Launchpool
Starting February 19 and ending March 5, 2021, the token will be presented on the Binance Launchpool. Participants who have invested assets in the following pools will be able to receive it:

BNB (60%) 641 710,8 DODO
BETH (30%) 320 855,4 DODO
BUSD (10%) 106 951,8 DODO
As of 02/19/21, the annual return in the BNB pool is 17.91%; in the BETH pool – 118.07%; in the BUSD pool – 30.48%. The coin was also listed on Binance on February 19. You can buy and sell DODO tokens on this exchange. Available trading pairs: DODO / USDT, DODO / BTC, DODO / BUSD.
Conclusion
The DODO protocol is the next step in improving the principle of trading through market makers. The use of the new PMM technology guarantees always sufficient liquidity and optimal price matching. There are other unique types of services, for example, IDO for the easy launch of tokens to the market. Liquidity providers are being offered good incentives, given the additional rewards from vDODO tokens. Thus, DODO closes the liquidity issue in automated market protocols.