Synthetix Network Token (SNX) – token and protocol review, course, prospects, where to buy / sell – Synthetix Network Token (SNX) – token of the Synthetix trading platform. This site operates on a distributed protocol to generate synthetic assets on the Ethereum blockchain. The Synthetix Network Token (SNX) is locked in the contract and allows the creation of synthetic assets.
Then the user can directly exchange these assets ("synths") for each other, bypassing unnecessary intermediaries. SNX can be used for staking.
On July 9, 2020, the Binance exchange listed the Synthetix Network Token (SNX) token. Trading is available in pairs SNX / BTC, SNX / BNB, SNX / BUSD, SNX / USDT.
The Bitcoinminershashrate.com editors prepared an overview of this token and the site within which it operates.
The content of the article
Synthetix Network Token (SNX) chart and price
general information
| | |
| --- | --- |
| Name | Synthetix |
| Ticker | SNX |
| Blockchain | Ethereum |
| Total emission | 200 428 194 SNX |
| Current issue as of 09/07/2020 | 118 334 082 SNX |
| Course on 09/07/20 | 4,68 $ |
| Market Capitalization as of 09/07/2020 | 545 867 482 $ |
| Official site | https://www.synthetix.io/ |
| Twitter | https://twitter.com/synthetix_io |
| Source | https://github.com/Synthetixio |
| Cryptocurrencies | Binance, Uniswap, OKEx, AEX |
Synthetix.Exchange and how it works
Synthetic assets on the Synthetix platform Is a kind of projection of the value of other digital currencies and objects that can be possessed without owning the underlying assets. Synths are supported by the Synthetix (SNX) token, which is in a locked state with a 750% margin rate.
Synth trading has several positive aspects compared to conventional decentralized or centralized crypto exchanges:
Reduced transaction costs.
Counteracting censorship.
Expanding access to certain assets.
Transactions are made with a smart contract (there is no functionality for creating orders). This type of trading is called eer-to-contract (P2C). The result is unlimited liquidity in the entire pool.
Currently supported synths:
Cryptocurrencies. Tokenized projections of various digital currencies: sBTC, sETH, sBNB, etc.
Inverted cryptocurrencies. For example, iBTC. Their essence is that they display the reverse rates of cryptocurrencies. If the value of bitcoin falls, then iBTC rises and vice versa.
Precious metals. Tokenized silver and gold (takes the cost of 1 ounce).
Fiat currencies. sEUR, sUSD …
The network architecture is based on the release of synths. A specialized mechanism has been developed for this purpose. Synthetic assets are available for issuance by the owner of SNX tokens, using them as collateral at a minimum of 750%. The release is done through a smart contract. At this moment, the user's debt (the price of the generated synths) is placed in a special registry. Synthetix uses a currency basket to ensure debt value stability; prices help to find out connected decentralized oracles.
As soon as a debt is assigned to the SNX holder, the smart contract is obliged to release the designated amount of synths and transfer them to the participant's balance. Later, if the SNX value increases, tokens are automatically unlocked in the amount required to match the price increase. The released tokens, if desired, can be transferred back to the pledge to release additional synths.
Stages of trading on Synthetix.Exchange:
The synthetic assets sold are incinerated. The balance of synths on the participant's wallet decreases. The total number of specific synths (for example, sUSD) on the network is being updated.
Based on the price of both assets, the exchange rate and amount are set.
The system charges a fee of 0.3 percent from the exchange amount. The commission is allocated to the staking pool.
The remaining 99.7% of assets are converted into final synthetic assets (for example, sBTC). This synth is updated on the participant's wallet, as well as the total number of sBTC in the network is updated.
Since the platform converts debt from the first synth to the second on its own, there is no need to search for a counterparty, match orders, a queue system, or adjust the debt pool.
Purpose of the SNX token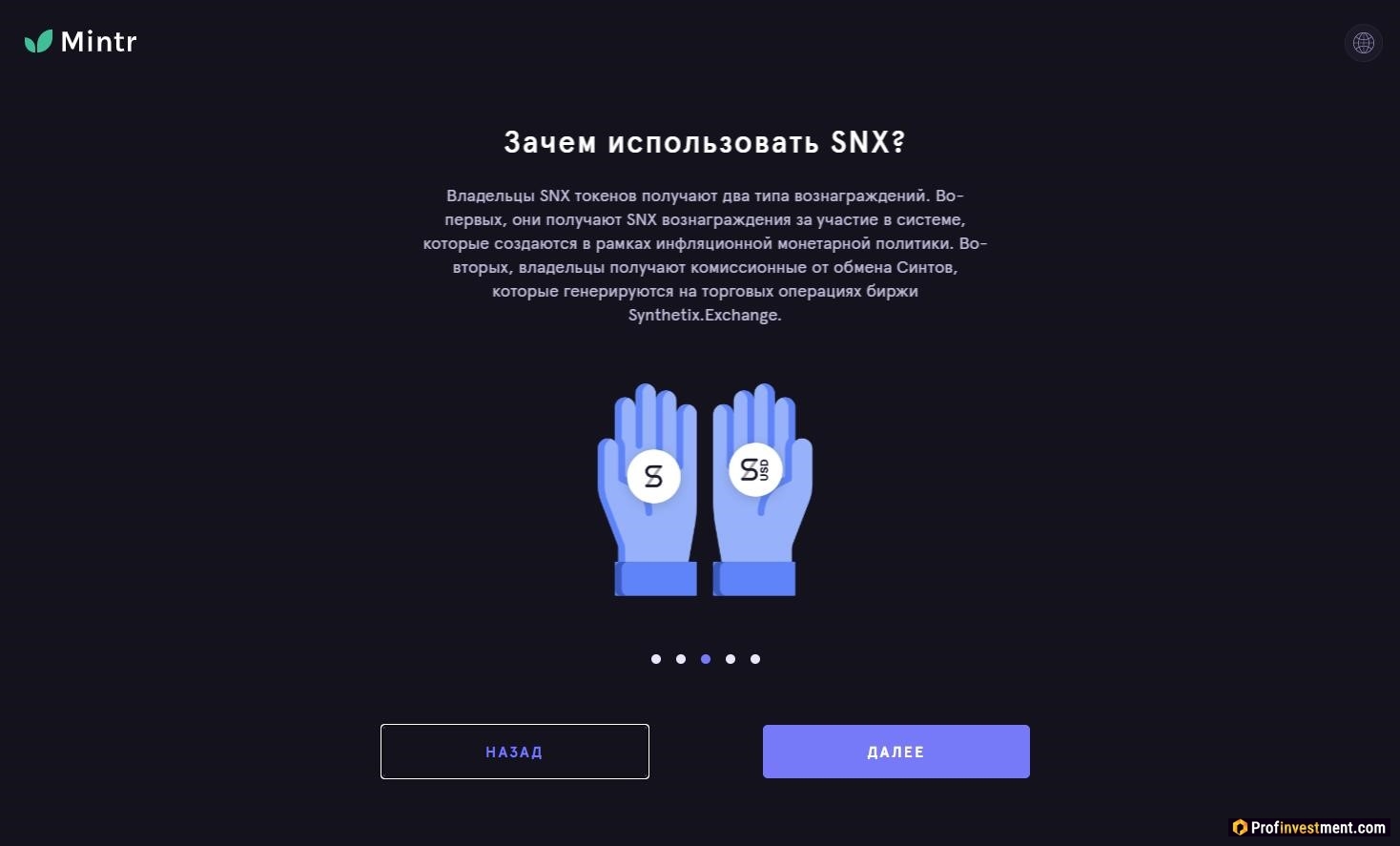 So-called synthetic assets are formed when users place their own SNX tokens on a dApp called Mintr, on collateral. Now the synths are 750% provided by SNX tokens, but this is not the final value, in the future it may change both up and down. To release their tokens from the collateral, the user must return the debt by burning synths.
SNX token holders are rewarded for keeping the system running in two ways:
Commission fees from exchange transactions on the exchange. A commission of 0.3% is deducted from any transaction, which goes to the commission pool. Network members receive a weekly reward, which is proportional to their share.
Inflationary monetary policy. Annual emission reductions are planned from 03.2019 to 03.2024. The total number of tokens will increase from 100 million to 245,312,500 and will be proportionally distributed among all network participants whose collateral ratio is equal to or higher than a certain value.
All participants in the system represent a single counterparty for all trading operations using synthetic assets and shift all the risks of the system's total debt onto their shoulders and therefore are entitled to receive commissions.
Where to store SNX
Synthetix Token (SNX) supports the following cryptocurrency wallets:
Hardware Ledger and Trezor. The safest option if you don't plan on spending any tokens anytime soon. Hardware wallets use modern encryption methods to protect funds from network attacks and various cases of fraud / phishing. Ledger Live
Trust Wallet. A wallet officially supported by the Binance exchange and allowing interaction with decentralized applications. The mobile wallet is convenient, secure, and provides backup options.
Atomic Wallet. A desktop and mobile wallet supporting over 300 cryptocurrencies, including SNX and other ERC20 and BEP2 tokens.
MyEtherWallet. One of the most reliable and proven token wallets on the Ethereum blockchain. It is a web wallet that can be accessed from any device with an internet connection. There is also a mobile application.
Where to buy SNX
Synthetix Network Token (SNX) has been listed on the renowned cryptocurrency exchange Binance since July 9, 2020. It is quite convenient to buy an asset on this site. Procedure:
Advantages and disadvantages
Pros:
Decentralized peer-to-peer platform that facilitates access to assets and expands liquidity.
Trading without an order system and associated disadvantages.
Low fees.
A number of well-known projects (Curve, Dhedge, XSNX) work on the basis of Synthetix.
Token support by major exchanges.
The opportunity to earn money on staking.
Minuses
There are complaints on Reddit regarding the unreliability of smart contracts, the deletion of user balances, and the rude attitude of the developers.
Trading is more difficult than centralized exchanges and requires professionalism.
Perspectives
Some experts believe that the Synthetix platform is as close as possible to the vision of cryptocurrencies proposed by Satoshi Nakamoto. The project token provides a fairly wide range of opportunities within the ecosystem and is considered a promising asset. In recent weeks, its rate has been actively growing, although in recent days it has begun to decline.